Blackjack is a very popular card game and inseparable from casinos. If the venue where you are features table games, be sure that you will find it.
We explained you how those games work thanks to two infography: "Learn Blackjack rules and strategy in 5 minutes" and "The Blackjack basic strategy". If you are a novice, don't hesitate to consult these graphics before reading this.
As numerous games, the Blackjack possesses lots of variants, more or less known. Among the ones you can often find, the Blackjack "Lucky Ladies" is a reference.
But, what are we hiding under this mysterious name of "Lucky Ladies"? That is what we are going to answer right now!
Presentation of the Blackjack with "lucky Ladies"
Instead of what you could think, this is not a single game but simply a sidebet proposed during a round of traditional Blackjack with 6 decks of cards.
On a classic table, added to the seven standard boxes designed for receiving the main bets engaged by the players, you will have a supplementary space (small round in the top right hand-corner) as this: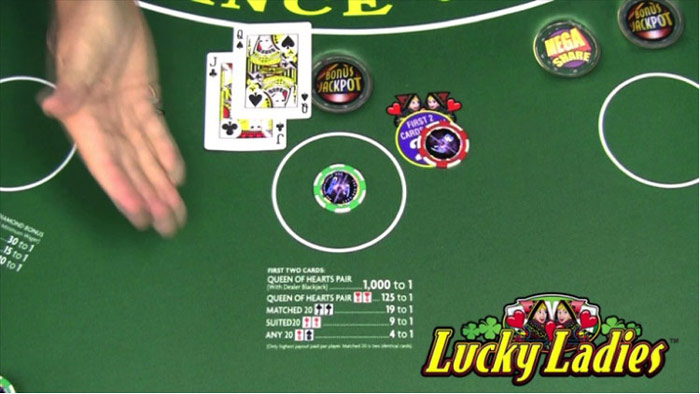 It is in this box that the players will have the possibility to engage their additional bet called "Lucky Ladies".
Rules of the Blackjack with Lucky ladies

1. The Lucky Ladies bet is made before the distribution of cards but after your "classic" main bet.

2. After all players' bets are recorded (you have no obligation to bet on this option), the dealer distributes the cards.

3. An observation is done at this moment by the croupier, in order to see if the players who made the additional bet have a 20 points hand.

4. If not, the croupier picks the bet engaged. If yes, he makes the payment of a bonus according to what you got to obtain these 20 points. The paytable will be necessarily posted at your table, indicating the price repartition as such:


| Winning Combinations | Winnings |
| --- | --- |
| Two queens of hearts and croupier's Blackjack | 1,000 times your bet |
| Two queens of hearts | 125 times your bet |
| Pair with two similar cards (e.g. two kings of clubs) | 19 times your bet |
| Two suited cards (e.g. King and 10 of diamonds) | 9 times your bet |
| Two Cards | 4 times your bet |

5. It is good to know that for each player, only the best winning combination is paid. Once the bonuses are rewarded, the round runs normally under the regular rules.
Probabilities
To be honest with you, they are low.
The house edge is situated around 24,71%, as tells us blackjack.com.au.
If you bet, it is clearly for fun. Do not hope for too much. The following chart with the related probabilites shows this information.
| Winning combinations | Probabilities |
| --- | --- |
| Two queens of hearts and croupier's Blackajck | 0,00015% |
| Two queens of hearts | 0,03% |
| Pair with two similar cards (e.g. two kings of clubs) | 0,47% |
| Two suited cards (e.g. King and 10 of diamonds) | 2,08% |
| Two Cards | 8,01% |
| Nothing | 89,41% |
Here's a video that will resume everything we said above.
Some rules and exceptions can be added in some very rare cases.
You have now all you need to spend a pleasant moment around a table of Blackjack Luck Ladies !
You want to try it? Come directly to our free Blackjack games online!
Also discover all our infographies to learn rules and strategies of the table games in less than 5 minutes for: Blackjack, Roulette, Baccarat, Three Card Poker, Stud Poker, Craps, Sic Bo, Casino War, Ultimate Poker and our guides on other games such as slot machines or video poker.
CasinosAvenue.com can't be held for any losses, which may be incurred by any player, gambling addiction problems or consequences generated by their actions. The company provides gaming advices in good faith and recommends responsible gaming. Gambling can be addictive. Play responsibly. If you think that you might have a gambling problem, please go to Adictel's website: www.adictel.com/en/.