For thrill-seeking slots players looking for exciting games with big win potential at their online casino, Big Time Gaming's Megaways™ slots have become the go-to titles in recent years.
Megaways™, from Australian developer, Big Time Gaming (BTG), has revolutionized online slots with an innovative reel system that expands to create hundreds of thousands of win lines on random spins.
When combined with exciting features like free spins and unlimited win multipliers on slots like White Rabbit and Bonanza, Megaways™ games have been so popular they have set new records in money wagering from players drawn to the electric pace of the gameplay and sky high wins.
This ingenious innovation is now being licensed to other online slot manufacturers like Blueprint and Red Tiger Gaming which means we will soon be seeing many more Megaways™ games on release.
Indeed, CEO of BTG, Nik Robinson, believes their expanding reels format may soon become more prevalent than traditional reel sets. He said:
"We already have a great deal of interest from leading suppliers in the field wanting to upgrade their offering with MegaWays™. This is a very successful mechanic and we believe it will eventually dwarf the standard 5x3 format of recent years."
So, if you love your slots action to be fun, fast and furious, with plenty of thrills and spills, then set your sites on Megaways™. You can find comprehensive listings of all the BTG slot games, and a list of the best slot sites where you can play for real money at The Slot Buzz, a casino news and reviews site.
But before you do, check out our guide to these games, including out chosen top 5, and some hints and tips on how to play them!
What Is Megaways™?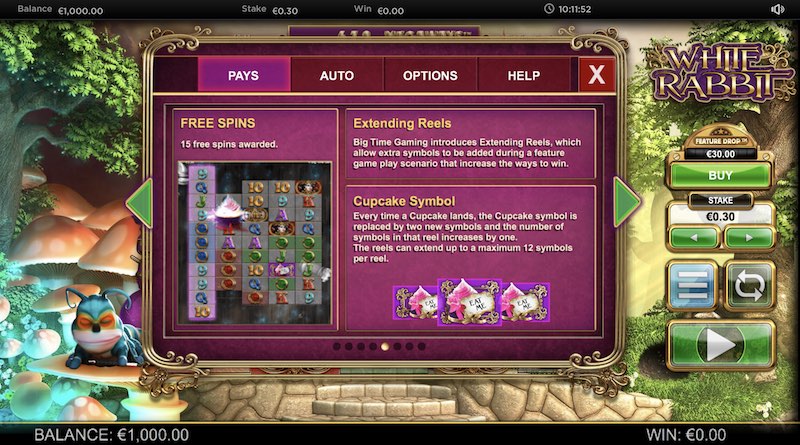 White Rabbit Megaways™ Slot Extending Reels Explained
Let's start with the basics. Megaways™ has two features that make it unique:
- It uses a Random Reel Modifier system to allow a different number of symbols to land on each reel after every spin. In other words, the ratio of reels and rows changes each time you play.
Typically, there are 6 reels and anything between 2 and 7 symbols can land on each. The more symbols that appear, the more chances you have of creating a winning combination.
- Win lines are different in Megaways™ games – provided identical symbols land on adjacent reels they count as a combination – regardless of their position.
So, what does this mean?
Well, for every spin the number of paylines, or win ways, is changing at random, AND where there are six reels, if all six land with 7 rows of symbols displayed, then there are 117,649 available ways to win (or 7x7x7x7x7x7)!
This is what drives the massive payout potential of these slots.
More Features of Megaways™ Slots
As well as using this unique game mechanic, Megaways™ slots typically have these characteristics:
Big Bonus Rounds – these games are renowned for their exciting bonus rounds packed with free spins, multipliers and re-triggers that add more and more free spins to your cache.
When luck strikes in these games, invariably its big – players rack up lots of free spins with high value multipliers to hit top payouts where 100,000s of paylines are active.
Cascading Reels – After each winning spin, the winning symbols are removed from the reels and new ones drop in to replace them. If a new win combination is formed, the winning symbols are removed again and new ones drop in once more. This continues until no more winning combinations are formed. Of course, this means that you can score multiple wins for the cost of just one spin!
High Variance – Megaways™ games typically pay out less frequently than other games, but when they do the prizes are epic!
Top 5 Megaways™ Games
So now you know how it works. Next up is our list of the Top 5 Megaways™ Slot Games developed so far:
White Rabbit Megaways™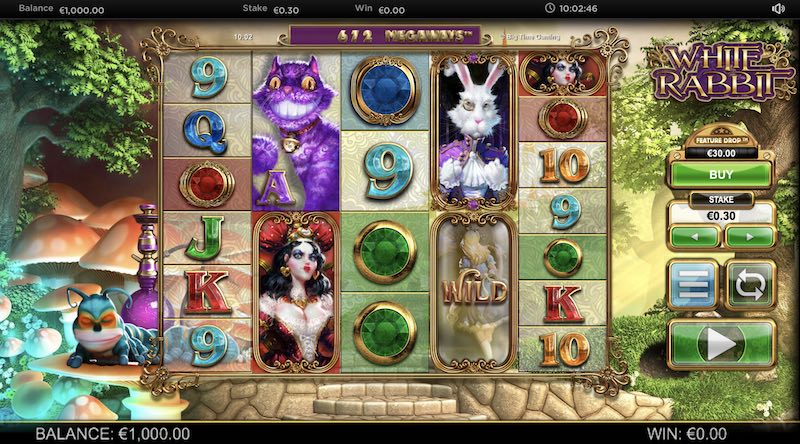 Release Date: November 2017
RTP (Average Return to Player): 97.7%
White Rabbit is our favourite BTG slot - a game that takes inspiration from the Alice in Wonderland novel. This one takes Megaways™ to a new level, with expanding reels in the free spins round that grow to up to 12 symbols high – creating an incredible 248,832 ways to win.
The bonus round is quite simply unbeatable – starting with 15 free spins, each time a cupcake symbols lands, then the reels increase by 1 row, up to the maximum 12. When they reach 12, the free spins round starts again! This gives the player up to 75 free spins in total.
White Rabbit also comes with a Buy-In option, allowing you to buy straight into the free spins bonus round for 100x your normal stake.
Bonanza Megaways™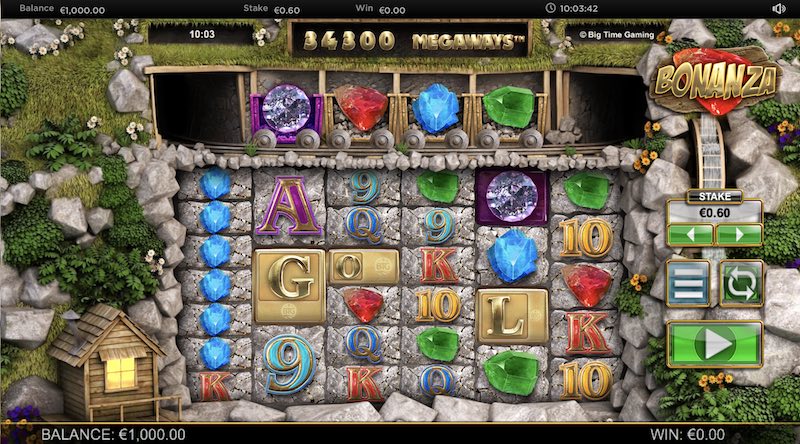 Release Date: December 2016
RTP (Average Return to Player): 96%
Bonanza was the first Megaways™ game to become really popular. It is set in a gold mine, with six reels, each landing between 2 and 7 symbols with every spin.
To hit the bonus round where the big wins are you'll need to land four Gold Bar scatters symbols. You'll start with 12 spins, but get more for landing more scatters with your free plays. Plus, with each consecutive Cascading Win your multiplier will go up by 1x! With NO LIMIT!
Who Wants To Be A Millionaire Megaways™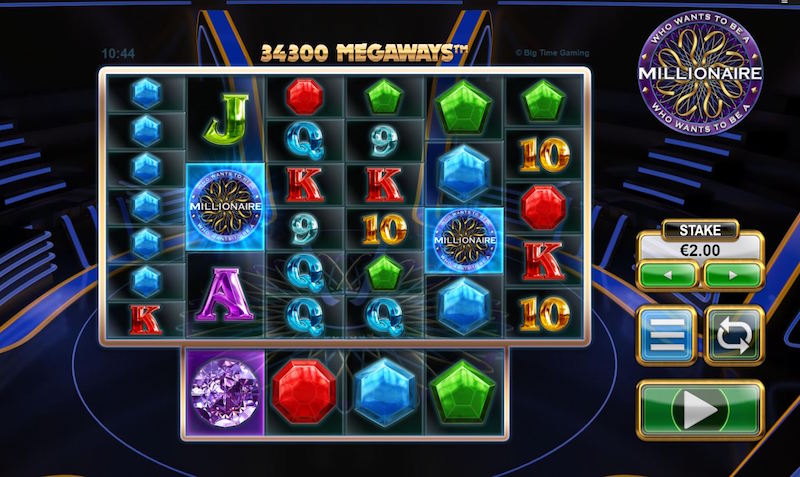 Release Date: November 2018
RTP (Average Return to Player): 96.24%
Billed as the hottest game release of 2018, Who Wants To Be A Millionaire is the first branded Megaways™ slot and comes with a top payout of £1,000,000!
One of the best parts of the game is the Hot Seat gamble feature that comes when you land enough scatters to hit the free spins round. You can gamble your free spins for double by Asking the Audience, 50/50 or Phone a Friend. These options can take you from 10 free plays right up to 50 free plays!
This slot also comes with Cascading Reels, lots of multipliers and of course, 117,649 ways to win.
Genie Jackpots Megaways™ From Blueprint Gaming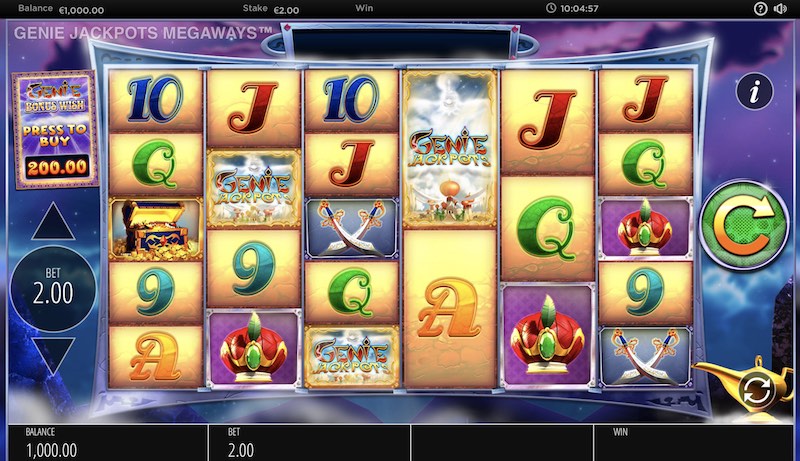 Release Date: September 2018
RTP (Average Return to Player): 96.75%
The first slot software company to license the Megaways™ engine was Blueprint Gaming. They have since re-released a number of their back catalogue of games as Megaways™ titles. Genie Jackpots, a Progressive Jackpot game, is one example.
Look out for random features in the base game including extra wilds added to the reels to create more winlines, stacks of wilds and Genie Winspins where Mystery symbols added to the reels give GUARANTEED wins.
There are also some exciting features to look out for in the bonus round, including a Genie Streak feature where all winning symbols lock after a winning spin, before a re-spin ensues.
This creates streaks of progressively bigger wins and the chance of an enormous eventual payout.
Buffalo Rising Megaways™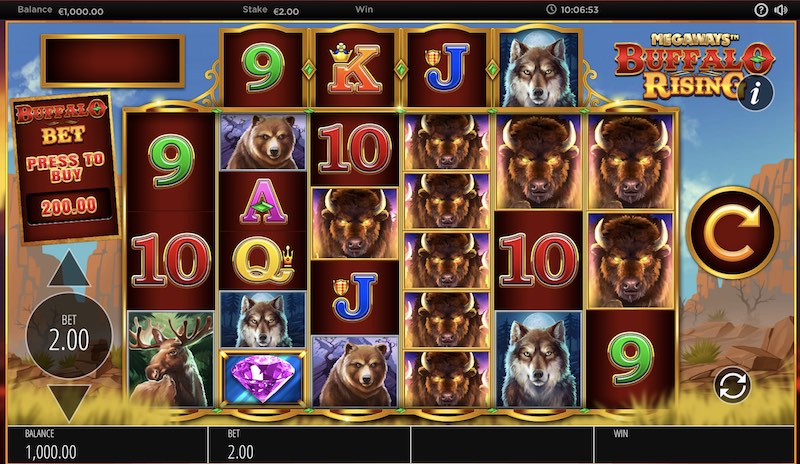 Release Date: October 2018
RTP (Average Return to Player): 96.35%
This slot, set in the North American Prairies, features expanding reels up to 8 rows high, giving massive win potential. It comes with a Prairie Wolf Buffalo symbol which alone is worth a 50x payout for six on a payline.
There are also Prairie sunset symbols that act as Mystery Symbols which transform to reveal winlines when they land on any spin.
But the real fun is reserved for the bonus round, triggered by Pink Diamond symbols that are worth 15 free spins, including the Cascading Reels feature, and an unlimited progressive multiplier that increases by 1x with each consecutive win.
More Megaways™ Games To Come
So, that's our pick of the best Megaways™ games released so far.
And the good news is, there are plenty more on the way.
As well as producing their own titles, Big Time Gaming have been licensing the Megaways™ game engine to other slots suppliers who are rolling out their own versions, so we can expect to see many more in the coming months.
Game producers who have licensed the Megaways™ engine so far are Blueprint Gaming, Red Tiger and Storm Gaming.
What's more, the race is on as competitors to BTG attempt to recreate the excitement of Megaways™ slots on their own game engines.
Recently we've seen software developers as diverse as Quickspin, Red Tiger Gaming and Yggdrasil pushing their slots to the limits of high variance to attract the kind of players who love chasing those big wins in pumped-up bonus rounds.
Some Tips for Playing Megaways™ Slots
If you feel like you're ready to join the Megaways™ revolution, here's a few tips on how to approach these games before you get started:
Understand The Game Model - Patience Is a Virtue
Before you decide to play a Megaways™ slot, it's important that you understand how these games work.
Megaways™ games have huge potential to pay out big, but they are also have notoriously high variance. Whilst the average Return to Player (RTP) of these slots is around 96%, the variation from this average is very high.
So, there can be long periods with little or no return on your wagering, before suddenly, boom, you hit the big time and an epic win!
Of course, if this doesn't sound like the kind of game for you, then choose a different game with a lower variance. You can find out more about choosing a slot to suit you in our Guide on How To Play Slot Machines.
Be Sensible and Manage Your Bankroll
Whilst it's important to be patient when playing, be sensible too. Some days it just won't happen for you, so give it a break and come back another time.
Remember, never gamble more than you can afford to, so don't chase down those wins if it means going outside of your budget.
Learn The Gameplay In Freeplay Mode
If you want to really enjoy these games, take some time to play them in freeplay mode first.
That means you can work out what's happening on each spin, what the big paying symbols are, how to earn free spins and multipliers, and what it takes to score big wins. That means when you play for real, you'll know exactly what's going on with every spin.
Choose From Our Top 5 Games
Finally, start with one of the games from our list of the top 5 Megaways™ slots. These are the best for sure, with the most exciting themes and gameplay, and the biggest potential payouts.
Finally …. Have fun! After all, that's what slot playing is all about.
Good luck!