Whereas table games require some knowledge, nothing is as easy as playing at a slot machine game in a casino.
Also called "Fruit Machines" in the United-Kingdom or "Pokies" in Australia, their simplicity, accessibility as well as the fun they provide made them a key element in casinos throughout the world.
However, serious gamblers know they don't feature the best payback percentages in a casino, usually between 92% and 93% in average.
With a high gaming speed, jackpots that can reach millions of dollars and a wide variety of themes, they became the favorite game among players.
By reading this entire guide until the end, you will master the key concepts and learn how to bring the best out of these machines.
How Do Slot Machines Work?
A Random Number Generator (RNG) that is calculating hundreds of results per second and stops as soon as you pull the lever or push the "Bet" or "Play" buttons determines the result of each spin on a slot machine.
That's why the result of your spin is already determined even if the reels are still spinning, this is just for the suspense.
What makes a difference between the results is the very precise time upon which you press the buttons or pull the lever. If you do it a little later or earlier, your results would be different.
The Slot machine industry is highly regulated as the manufacturers and the casinos has to follow the numerous laws established by each country.
The payback percentage
Knowing the payback percentage of a slot machine is the most important information that every gambler is looking for.
It is the percentage of the money invested that the slot machine is configured to give back to players over millions of occurrences.
If a machine is configured for 96%, it will not give $96 for every $100 invested, but 96% of each spin in average over the long run.
How to find loose slots
The Slot Manager has the hard task to find the perfect balance between the house edge and the player's satisfaction.
That's why slots payback is usually correlated with their denomination, the higher the minimal bet is the higher it will be.
So if you are not aiming for a jackpot, you should rather play one coin at a time on a higher denomination slot rather than several coins at a time on a low denomination one.
Even if some slots has different payback percentage according to the number of coins played, you will usually get better odds by doing this.
A lot of unproved techniques and myth about how to find the best slots are told between players. Several are explained at the end of this guide.
However, the 3 following techniques can give you reliable information.
- Estimate the payback rate according to the denomination
You can usually rely on the following average numbers. However, keep in mind that these numbers can vary between countries and casinos.
| | | |
| --- | --- | --- |
| | Denomination | Average Payback |
| Loose | $0,50 - $1+ | 93% - 98% |
| Medium | $0,10 - $0,25 | 90% - 95% |
| Tight | $0,01 - $0,05 | 87% - 92% |
The minimum payback percentage in Nevada is 75% and 83% for New Jersey, however, the machines are usually set up with higher return rates.
- Find some bank of machines with an advertisement on it
By walking in the casino floor you can sometimes find slot machines with advertisement such as "98% Payback" on it. That would be a great indication about the performances of this particular machine.
However, be careful of message like "Up to 98% Payback" on group of machines as this might mean that only one out of the entire group has this rate.
- Do some research about the casinos you are going to
Some venues publish their payback percentage or you can also find some great resources such as the study carried out by the Wizard of Odds website on Las Vegas casinos.
Even if it is now a bit old, the study revealed that the best odds in Vegas are off the Strip and the worst being at the McCarran Airport with a 85,02% payback rate! The highest rate being at The Palms with an average 93,42%.
Understand the pay tables and when to bet Max
The two main types of machines
A button on the front panel operates modern slots whereas the vintage slots, also called "one-armed-bandits" are famous for their side levers and mechanical reels. Charles Fey created them in 1895.
- The Mechanical Reels and One Armed Bandit
Bandits appear simpler to gamblers and are usually composed of three reels and a single line bet.
- The Video Reels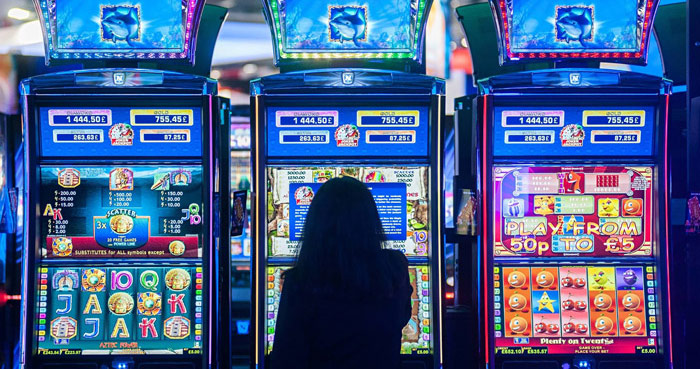 In comparison, the modern slots also called "video" has a screen and can feature up to 6 reels with more than 100 line bets, as well as different denominations and games.
The particularity of these machines is their fun "Bonuses" games. They help to improve the payback percentage, so be sure to bet enough to qualify for them.
Understanding the pay tables
It is very important to understand the potential payouts of a slot machine to know how much to bet.
Generally, remind that you should only bet additional credits or max only when you get a direct benefit for it or it is a jackpot requirement.
Here is a detailed explanation of the different pay tables that you can find in a casino.
- The Straight Multipliers

On the Straight Multipliers machines, betting more allows you to win more, proportionally, but you don't get any benefit for taking more risks.
Betting Max on these kinds of machines is not your best choice.
- The Modified Multipliers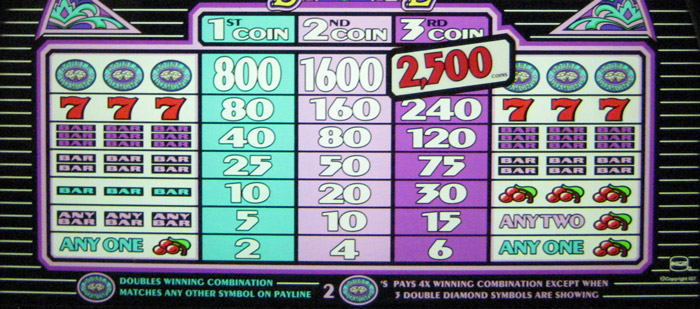 The Modified Multipliers give you an extra bonus for betting additional coins. Betting Maximum on these kinds of machines is more logical as you get rewarded for the risks.
- The Buy A Pays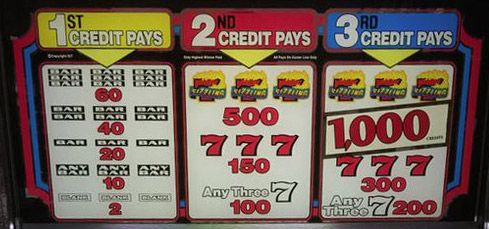 The Buy A Pays machines allow you to activate more winning symbols by betting additional credits.
Be sure to always bet enough to activate those symbols, as it will increase the payback percentage. But, be careful because sometimes the latest coins only act as straight multipliers.
- The Progressives Jackpots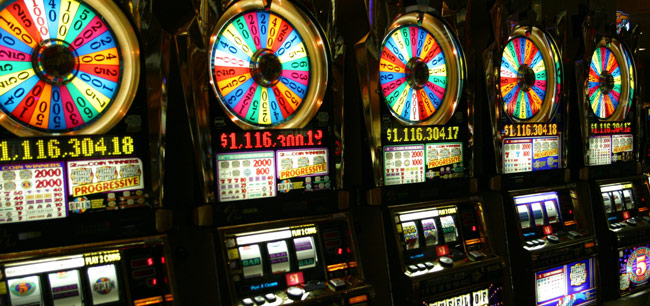 The progressives were first introduced by IGT in 1986, these machines features huge jackpots that are financed by a small percentage taken on all the bets.
Always aim for the jackpot on this type of machine as the payback percentage is way lower compared to the other of the same denomination.
>The Stand-Alone slots
Stand-alone slots are machines featuring their own jackpot; they are not linked to other machines and are usually displayed in group.
In this case, find the machine with the highest jackpot, as the odds to hit it are similar on every machines, but be sure to bet enough (usually Max) to aim for the big jackpot.
>The Wide Area & Multisite slots
The Wide Area & Multisite Slots are linked to other machines of the same type and share a similar jackpot.
In this case, it doesn't matter which machine you choose, as the payouts are similar on all of them. However, be sure to bet enough (usually Max) to aim for the big jackpot.
Bankroll Management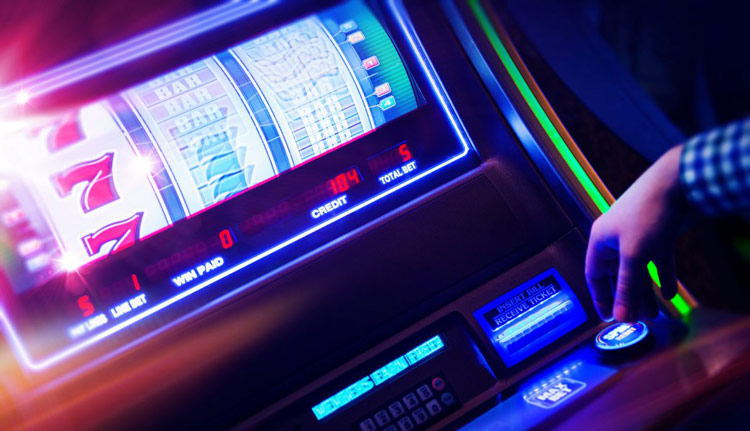 As there is no magic formula to beat the slots, the best strategy is to reduce the house edge and to apply some guidelines in order to last longer while waiting to get lucky.
Know what type of slots suits you best
First, you have to determine what you are looking for. Your primary goal should always aim for the fun and keep in mind that most of the time you will lose your money unless you are lucky.
But, what kind of player are you? Do you want to hit the big progressive or just double your budget today?
As we saw it in the previous chapter, the machines featuring progressive jackpots have often a lower payback percentage.
You can also know if a machine is going to payback frequently or not by looking at the pay table, this is the "hit rate".
If the machine features a lot of high multipliers, it will probably have fewer winning combinations than a slot with lower multipliers.
By playing on highly volatile machines with lower payback percentage, you will take more risk and may burn your budget quickly if you don't hit winning combinations. But you will win more if you get lucky!
How to calculate your budget
You have to determine your budget and choose your machine accordingly to your goal and the time you want to play.
Usually, to last 2 to 3 hours, you should consider playing with at least 200 to 300 times your average bet.
- If you are looking for a big Jackpot on a more volatile en risky machine:
With a $1 bet per spin, a 90% payback and 500 spins per hour, your expected loss will be of $50 ($1 x 500 x 90%).
- If you are looking to play longer on a minimum budget, aim for the penny or dime machines, which have a better hit-frequency.
With a $0,10 bet per spin, a 90% Payback and 500 average spins per hour, your expected loss will be of $5 ($0,10 x 500 x 90%).
Establish a plan and objectives to follow
Before going to the casino, determine how much you are willing to play and an objective to know when to quit.
Thus, you will be able to enjoy the feeling of walking out as a winner.
Remind that slot machines have one of the lowest payback percentages of the casino games. If you keep reinvesting your winnings, you have great chances of losing it all.
Split your budget
Don't hesitate to split your budget between the different types of slots.
You can also divide your bankroll into 2 - 3 parts to extend your play and to do something else during your sessions.
There is always an attraction, a promotion or something interesting to discover in a casino!
Tips & Advices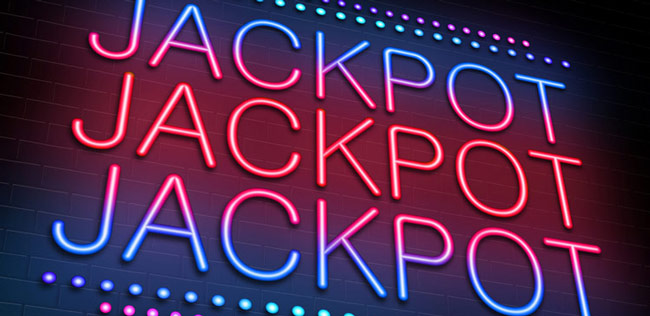 Do not confuse Payback and Hit-rate
If a machine has a payback percentage of 96%, you will not leave with $96 after betting $100 in it.
Each spin is independent and the payback percentage is calculated over millions of occurrences. That's why you can either be a winner, a loser or break even after betting $100.
The hit-rate is the percent of time that you will win something on a single spin.
Know your machine before starting to play
If you are trying a new slot, be sure to understand how it is working. Study the payouts, the bonuses and the jackpot's requirement to bet accordingly.
If you have any interrogations, find the slot manager. He will be able to answer all your questions.
Use your player card
Always subscribe to the loyalty program of the casino and don't forget to insert your card in the slot.
Moreover, with equal bets, you will earn more points and complementaries than table games players.
But don't play to get comped!
Loyalty program can be very attractive with many gifts and exclusive offers that will improve your comfort in the venue.
However, don't play to get complementary items. If you are not lucky, you will lose way more to the casino than the loyalty program will give you in return.
Share your bankroll with a friend
By sharing your bankroll with a friend and taking turns play, you might find out that you get at least as much as if you were playing alone!
You will also manage to have a bigger bankroll and to slow down your rate of play. But make sure the person is honest.
Gamble with your Head
Casino games provide emotion, that's why we gamble. However, if you happen to win big, keep gambling with your mind, not your emotions.
A winning streak doesn't last forever.
Take your time and have fun
Playing on modern slot machines can be very quick because of their fast gaming speed. You can now even automate spin rows!
Remember that the payback percentage is quite low and that the fastest you play, the fastest you might lose your budget.
Winning money can be your goal, but know that the house has a mathematical edge on you, expect to lose and enjoy winnings when it happens. Aim for the fun, not the money.
Get Lucky!
This is the best we can hope for you! Being lucky is the only way to win at slot machines.
Famous slots myths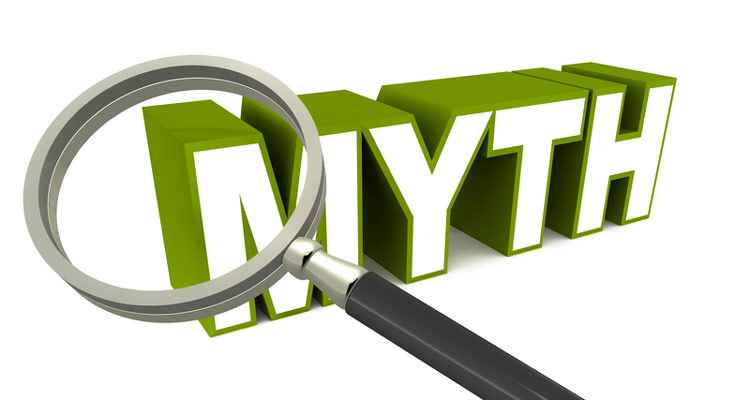 "I know a sure way to win"
Never trust winning system that people would like to sell you.
Even if it is for slots, roulette or any other games, if somebody knew a winning system, they would not be there trying to sell it.
The loose machines are located in visible areas
Many say that the best machines are usually located in the center of the action and in visible areas in order to attract the attention when somebody wins on it.
Books about how to understand the thinking process of the slot managers have even been published!
However, nothing has ever been proved yet and the most reliable advice we can give here is that the payback percentage usually varies according to the denomination of the machine, not his location.
Local gamblers and the staff know where the loose machines are
Unfortunately, as the payback percentage is calculated over millions of occurrences, it is very unlikely to have a clear idea about this.
Even if you are working several hours a day close to them.
Spot a player that did not win in a long time and take his machine as soon as he leaves
Here, the assumptions is that the machine should be giving back soon as it did not paid out yet.
However, this is a wrong assumption as like in Roulette, each spin is totally independent.
The slot just gave a jackpot and won't give another one in a while.
A machine is never "Hot" or "Cold" after it gave a jackpot. As explained before, each spin is fully independent.
A machine can give several jackpots in a row if you are very, very lucky.
I can win more by pulling the handle or the spin button.
It actually doesn't matter. Your odds are calculated on a machine level by the random number generator.
Odds are lower if I don't use a player's card
No, the payback percentage doesn't change if there is a card inserted or not.
Conclusion
Through this article we tried to gather the best and truthful advice to enjoy your time at the slot machines.
Remember that the slot machines are not the best bet in a casino and that Video Poker might also interest you. These machines have a similar style and more than 99% payback percentage.
Don't hesitate to try for free first, thanks to our free slots online!
Also discover all our infographies to learn rules and strategies of the table games in less than 5 minutes for: Blackjack, Roulette, Baccarat, Three Card Poker, Stud Poker, Craps, Sic Bo, Casino War and Ultimate Poker.
CasinosAvenue.com can't be held for any losses, which may be incurred by any player, gambling addiction problems or consequences generated by their actions. The company provides gaming advices in good faith and recommends responsible gaming. Gambling can be addictive. Play responsibly. If you think that you might have a gambling problem, please go to Adictel's website: www.adictel.com/en/