LEARN BLACKJACK RULES AND STRATEGY IN 5 MINUTES - An infographic by the team at CasinosAvenue
Embed this infographic on Your Site: Copy and Paste the Code Below
Download a printable version of the Simple Strategy Chart or discover the Blackjack Basic Strategy Chart.
Did you enjoy this Infographic? If yes, please consider sharing it. Thanks!
Moreover, you will find help about all other casino games in our blog!
CasinosAvenue.com can't be held for any losses, which may be incurred by any player, gambling addiction problems or consequences generated by their actions. The company provides gaming advices in good faith and recommends responsible gaming. Gambling can be addictive. Play responsibly. If you think that you might have a gambling problem, please go to Adictel's website: www.adictel.com/en/.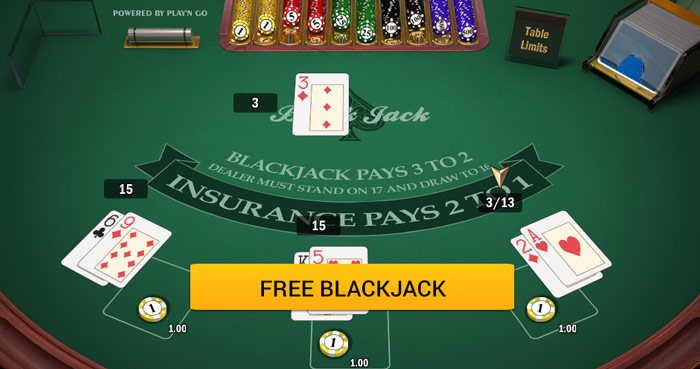 Retranscription of this infographic:
Learn Blackjack Rules and Strategy in 5 Minutes
Game Purpose
In Blackjack, each player plays versus the Bank, which is represented by the dealer.
The goal is to win by accumulating a higher count than the dealer without going over 21 to not « bust », or if the dealer « bust » and you don't.
Each player first receives two cards and then draws as many cards as they want.
The dealer usually obeys to a simple rule : draw a card on 16 and stand on 17.
Combinaison Values
10s, Js, Qs and Ks are worth 10 points each.
Aces are worth either 1 or 11 points.
The cards 2 through 9 have their face value.
Gaming Table
The gaming table can welcome up to 7 players. It is composed of 7 boxes where you can place your wagers. You can place several wagers on different spot at the same time.
The cards are deal in front of your respective spot.
The game can be played with 1 to 8 decks of 52 cards.
Game Progress in Blackjack
Players put their wager on the dedicated spot.
The dealer gives you and himslef two cards. His 2nd card is face down.
From right to left, the dealer asks to the players if they want to draw one more card or stop. If you exceed 21, you « Bust » and lose your bet.
When all the players have played, the dealer reveals his second card and draws a new carduntil he gets 17 or more. If he exceeds 21, he loses and all the players still in the game double their wagers. If the dealer gets between 17 and 21, the bets are drawn out between the players and him according to their counts.
If a tie occurs, you recover your wager. The best possible hand is an opening deal of an Ace with any ten-point card. This is called a « Blackjack ». This hand wins over any count of 21 made with three Cards, but if the dealer and you both get a « Blackjack », this is a tie.
Betting System
Additional wagers are possible according to the dealt cards :

Double : After the deal, you can choose to double your bet but you will only get one more card from the dealer.
Split : you can choose to « Split » your cards into two distinct hands if you have a Pair. You will have to bet once each new hand.
Insurance : If the dealer's first car is an Ace, you can decide to pay half of you initial bet. If the dealer hits the Blackjack, you recover your entire wager. Otherwise you lose your « insurance ».
Surrender : If the situation is unfavorable, you can decide to give up the round after the deal. In this case, you recover the half of your initial bet.
Potential Winnings
Minimal and maximal wagers vary according to the game tables. The most common situation is to double your bet or to have it lost.
If you hit the blackjack, you win 1,5 times your wager (3 :2).
Game Strategy of Blackjack
In Blackjack, the peak of the game is reached after the deal, according to your two face up cards, and to the dealer's unique card. You can choose at this moment if you want to Draw. Stand, Double, Split, Surrender or take an Insurance.
We recommend you to use the following simple strategy in order to lessen the house edge to approximately 1%. This strategy slightly varies according to the number of deck used on the table.
Player's Hand Dealer's up-card
HARD

2 to 6

7 to A

4 to 8

Hit

Hit

9

Double

Hit

10 to 11

Double with more than dealer

12 to 16

Stay

Stay

17 to 21

Stay

Stay

SOFT

2 to 6

7 to A

13 to 15

Hit

hit

16 to 18

Double

Hit

19 to 21

Stay

Stay

SPLIT

2 to 6

7 to A

22, 33, 66, 77, 99

Yes

No

88, AA

Yes

Yes

44, 55, 10-10

No

No
Hard = Hands with no aces / Soft = Hands with at least one ace
A link to a printable version of this chart is provided at the end of the infography.
Key Points To Remember
Stay if your count is at least 17, or if you have 12 while the dealer has 6 or less.
Double your bet with a score between 9 and 11 if you have an advantage on the dealer and if you have Ace 5, 6 or 7 against a 6 or less from the dealer.
Always split 8/8 and A/A, and never split 4/4, 5/5 and 10/10.
Surrender only if you have 16 when the dealer has 10.
Various advices
Look for a table with the most favorable rules and with a minimal wager which equals to 5% of your budget.
There are lots of Blackjack variants and their rules can vary a lot, bet sure to master all the rules and subtleties before playing.
Try to learn the strategy before playing at a table. Some casinos with liberal rules let you play with your chart on the table.
The more decks of cards are used, the more the house edge increases. Try to find the tables with the smallest number of card deck in use.
Never take the insurance the dealer has an Ace.