Las Vegas is the city of superlatives; everything is big and dedicated to pleasure. The Vegas' restaurants are not doing exception of this rule and today we will present you a different kind of restaurants: the "all you can eat" buffets!
Almost as famous as its casinos, the buffets of Las Vegas are a crucial part of the city's heritage.
So here's our selection of the best buffets of Vegas, which provides always new culinary and decorative innovations to attract the most of people!
7 – Carnival World & Seafood Buffet at the Rio All Suites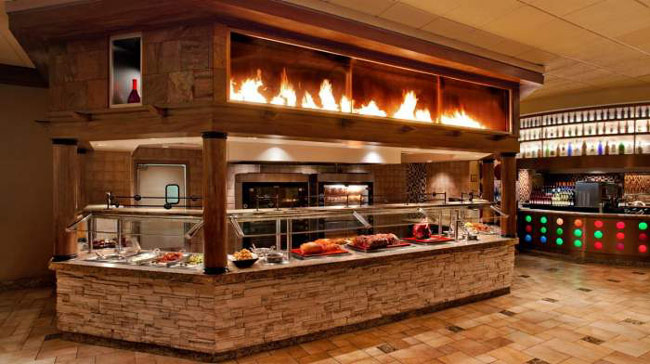 Want to do a trip around the world thanks to your plate? Take a seat and travel from Japan to Italy by making a step in Mexico.
You will also savor dishes with seafood previously ordered and prepared under your control.
A real show that will make you starved.
For dessert, taste pies and others homemade pastries!
Small tips: If you are looking for some tranquility while you eat, choose one of the cabanas separate from the main loud rooms.
Adress: 3700 West Flamingo Road
Resort: Rio All-Suite
Prices: $31 - $60
6 – Studio B at the M Resort Hotel & Casino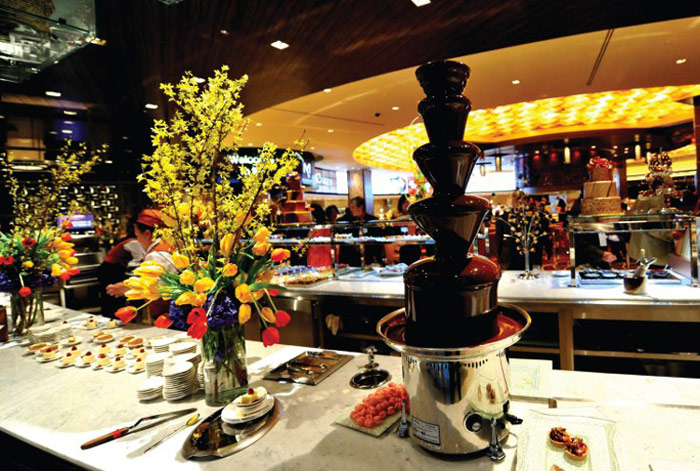 You are sometimes wondering how are prepared your dishes and in which conditions?
In this venue, you will observe the preparation of your plates. More than 200 different kinds of things to eat are made each day!
For the drinks, you won't be thirsty; thanks to a bar that proposes wines, beers and ciders. Not fan of alcohol? Have a drink of soda or juice.
Small tips: Sushis, Sashimis and Nigiris are specifically prepared and presented in a nice Japanese style section.
Adress: 12300 Las Vegas Blvd, Henderson
Resort: M Resort Spa & Casino
Prices: $11 - $30
5 – WickedSpoon at the Cosmopolitan Hotel & Casino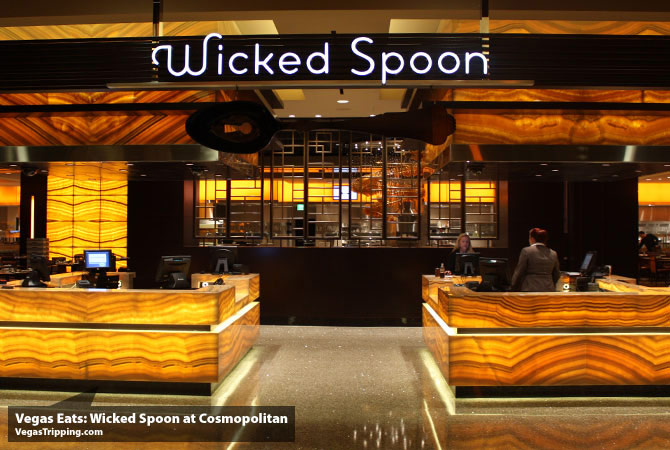 The specificity of this buffet? The majority of the plates are served in small portions and single size "cassollettes". But I will stop you there, those won't you prevent to leave the place completely full!
The quality of this food won't let you unmoved.
The décor has been worked on too, and is modern with a combination of brown, orange and gold.
Small tips: A free champagne cocktail will be served with you meal.
Adress: 3708 South Las Vegas
Resort: The Cosmopolitan of Las Vegas
Price: $22 - $29
4 – The Buffet at The Wynn Las Vegas Resort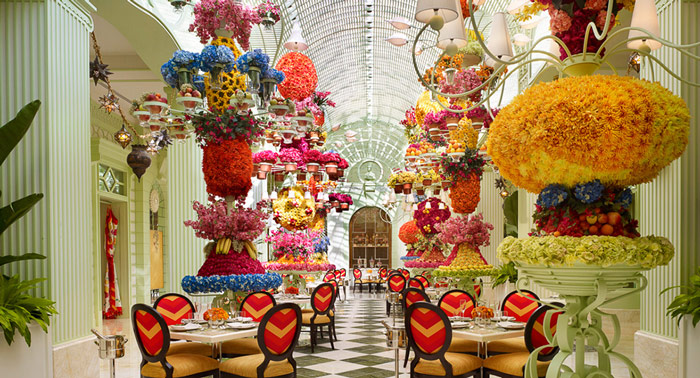 This buffet is as luxurious, sophisticated and modern as the Venue. The food elaborated professionally is served with a worked esthetic.
It is one of the only ones buffets to provide vegan options. The rumor says that meat lovers are fans of those options…just saying!
Small tips: The sculptures in flowers will blow your mind during your meal.
Adress: 3131 South Las Vegas Blvd
Resort: Wynn Las Vegas
Prices: $31 - $60
3 – The Buffet at the Bellagio Hotel & Casino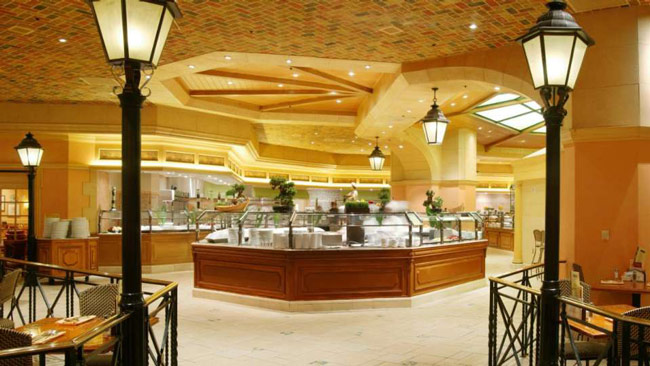 The buffet at the Bellagio has the singularity to provide unique and not common dishes. Tofu Noodles salad and Nutella parfait are waiting for you. It is not the biggest buffet in Vegas but its food quality is a sure fact.
Its seafood section offers crabs legs, shrimp cocktails, smoked trouts or calamari salads.
Small tips: The Salad bar will rejoice those who have eaten too much during their stay!
Adress: 3600 South Las Vegas Blvd
Resort: Bellagio Hotel & Casino
Prices: $31 -$60
2 – The Bacchanal Buffet at the Caesars Palace Hotel & Casino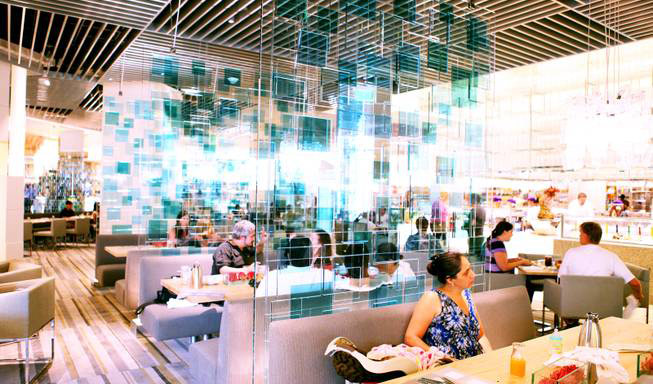 Some says that this buffet is the best in Vegas; the gargantuan Bacchanal Buffet takes place in the Caesars Palace.
Each day, 500 dishes or sides are proposed and 9 open cuisines are available…always more!
We find Mexican, Italian, Japanese, American, Chinese, Seafood cuisines…
The most gourmet (and rich) of you will be able to savor caviar, lobsters or Norwegian Mackerels.
Small tips: Do not miss the "minis": small portions of modern cuisine. Small by size but amazingly delicious!
Adress: 3570 South Las Vegas Blvd
Resort: Caesars Palace Casino & Hotel
Prices: $31 - $60
1 – The Village Buffet at the Paris Hotel & Casino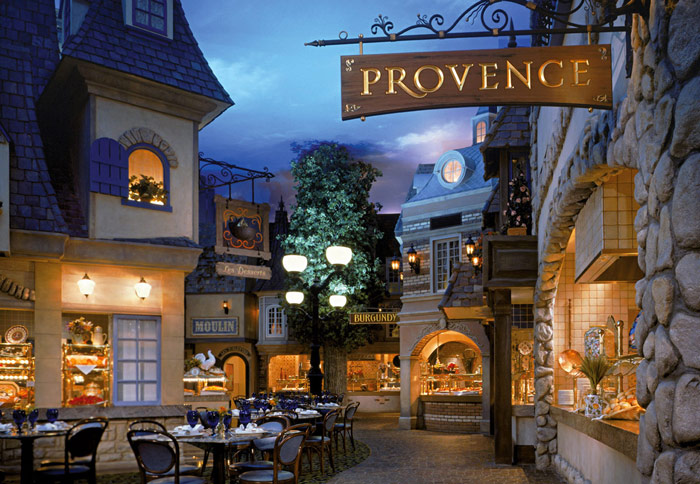 Its environment and the choices of its cuisine make this buffet the best in Las Vegas.
In a real French village reproduction, you will taste dishes from authentic regions. Five stations representing five French regions, as the Provence or the Savoie, serve "à-la-commande" specialties and other traditional plates made under the advices of big French chefs.
The ceiling in trompe-l'oeil style invites you to a trip at the heart of France. Change of scenery guaranteed.
Small tips: The Breton side with its crepes are actively recommended, not only for their quality, but also the collection of pastries and delicious creations.
Finish this sumptuous meal with a "macaron" Yogurt for dessert.
Adress: 3655 S Las Vegas Blvd
Resort: Paris Hotel & Casino
Prices: $11 - $30