At Caesars Palace Las Vegas, the Roman Tower is getting a new name and a total makeover as the hotel-casino plans a year-long celebration of its golden 50th anniversary in 2016.


The evolution of Caesars Palace Las Vegas continues with the renovation of the iconic hotel's original Roman Tower. The revamped tower will be completely reborn as the new Julius Tower. Drawing from history, the name of the new tower pays homage to Julius Caesar, the hotel's Roman ruler.
Designed by Michael Medeiros of KNA Design, the rooms and suites will feature modern designs but keep the same great view of the Strip.
Each of the Tower's 587 rooms will have a neutral color pattern with touches of "freesia yellow", according to a hotel statement, creating a calm respite from the excitement of the casino.
The key feature of the rooms is the brand-new headboards incorporating bronzed framed mirror panels adding sparkle and reflection to the space. The new Julius Tower rooms will also feature 55-inch flat-screen TVs, double sink bathrooms and custom artwork that combines photographs of roman statues with art.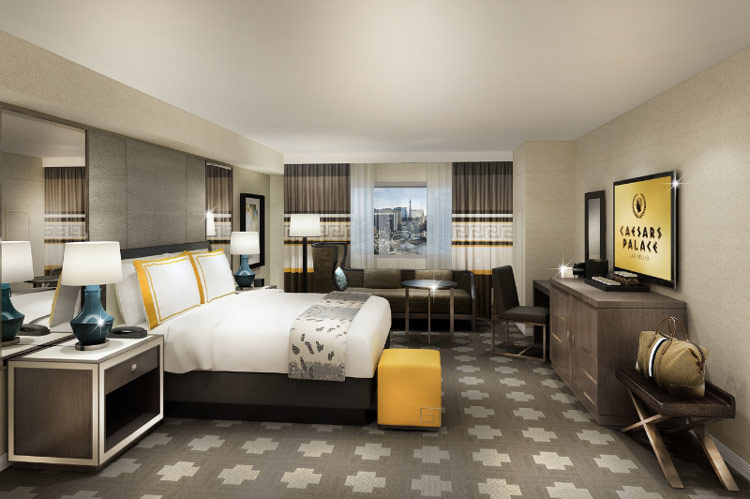 "As we enter into our milestone golden anniversary year, we continue to reinvent Rome…and Las Vegas," said Gary Selesner, Caesars Palace regional president. "We set the standard of luxury when we first opened our doors almost 50 years ago and are proud to continue to raise the bar for excellence in every way."

The $75-million renovation project is due to finish by the end of the year. Therefore, the Julius Tower is expected to welcome its first guests January 1st, 2016 with rates starting at $149, just in time to celebrate its 50-year long existence in 2016.
Caesars Palace remains a leader of innovation and the ultimate luxury destination to stay and play.