You are in Las Vegas and you have already tried every possible type of restaurants: Gourmet, buffets, Asian, Italian, American etc…
Now, you want to live an uncommon gustatory experience as Sin City is?
If you like to enjoy unique and unusual moments, why don't you let yourself discovering the most unusual restaurants of the city.
So here's for the pleasure of all, a top 10 of the most unusual restaurants of Las Vegas!
10 – Heart Attack Grill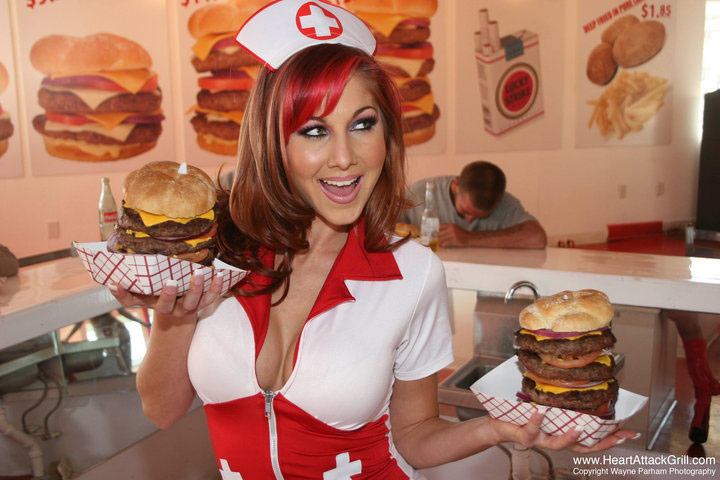 It has been a while since you want to make jealous all your friends by doing a crazy thing? Let yourself be temped by this uncommon and funny restaurant.
When you arrive, a woman dressed as nurse welcomes you and dresses you with a hospital patient outfit. XXXXL size burgers are waiting for you and will test your stomach competence. The "hospital employees" are always ready in case of cardiac arrest or other emergencies!
But be careful, if you do not finish your plate, you'll be spanked!
Address: 450 Freemont St #130
Type: Steakhouse, Grill
Prices: $2 - $23
9 – Roxy's Dinner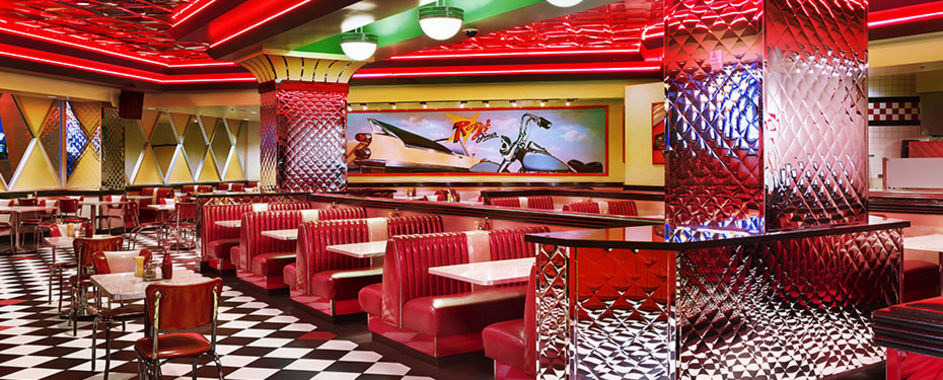 As soon as you enter this place, you will travel in the 50's! The Roxy's is a real American dinner following US tradition. You will find there, the same burgers and banana spilt served in the movies!
The other great thing is that the waiters and waitresses are singing from 2pm to 2am.
Address: 2000 S Las Vegas Blvd

Resort: Stratosphere Hotel & Casino
Type: Dinner, American cuisine
Prices: $11-$30
8 – Grotto Italian

You haven't had time to visit an aquarium in Las Vegas yet?
No worries, you just need to dine at the Italian restaurant Grotto. A shark tank is located at the heart of the restaurant! You can admire them while savoring some delicious plates.
Some fountains are around the tank, making it more impressive.
Address: 129 Freemont Street

Resort: Golden Nugget Hotel & Casino
Type: Italian cuisine, American
Price: From $20
7 – Joël Robuchon
The Joël Robuchon's restaurant is known as one of the best all around the world. We listed it in our top list because it is also one of the more expensive on earth.
If you can afford it, don't hesitate! It is a unique and unforgettable experience.
Address: 3799 S Las Vegas Boulevard

Resort: MGM Grand Hotel & Casino
Type: French cuisine, gourmet
Price: Very high
6 – Carnival World Buffet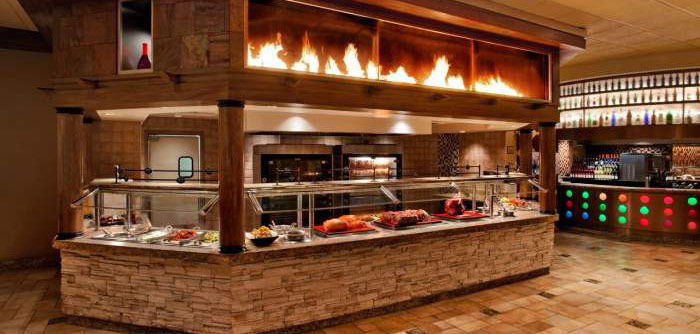 The buffets in Las Vegas are part of the city's traditions. The Carnival Buffet is in our top list because it is simply the biggest one of Las Vegas and of the world!
An amazing amount of dishes are suggested in front of you, it will be difficult to choose. One thing is sure; you will quit the place completely satisfied…and full!
Address: 3700 Flamingo Road

Resort: Rio All Suite Casino & Hotel
Type: Buffet, international cuisine
Prices: $31-$60
5 – Beijing Noodle No.9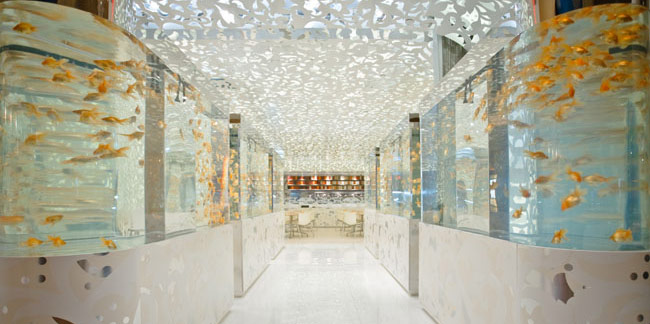 Here, the decor plays an important role. When you come in this Chinese restaurant of the Caesars Palace, it is a long corridor filled with 6 aquariums that welcomes you in a pure and immaculate atmosphere!
The fish in those aquariums are the superb Ryukin Goldfish.
In the dinning room, wonderful contemporary arabesques of white flowers escort you during your meal.
Address: 3750 S Las Vegas Blvd

Resort: Caesars Palace Casino & Hotel
Type: Chinese cuisine
Prices: $11 - $30
4 – Aureole
Located inside the magnificent Mandalay Bay Resort, the Aureole restaurant has a unique particularity.
At the center of the place, there is a huge wine cellar of 50,000 bottles! Actually, it is a high four-story steel and glass tower.
The waitresses called the "flying angels" are fastened and hanged to retrieve the bottles. An impressive show!
Address: 3950 S Las Vegas Blvd

Resort: Mandalay Bay Hotel & Casino
Type: American cuisine, Fish/seafood, international cuisine
Prices: Average of $35 for a dish
3 – Top of the World

Is there something better than savoring a sophisticated plate while admiring a stunning view of the sumptuous hotel-casinos of Vegas?
Located in the giant Stratosphere tower, the restaurant is moving 360° every 80 minutes.
Thus, each client can enjoy the view that changes during the whole meal. Simply magical!
Address: 2000 S Las Vegas Blvd
Resort: Stratosphere Hotel & Casino
Type: Fish/seafood, international cuisine
Prices: More than 61$
2 – Geisha House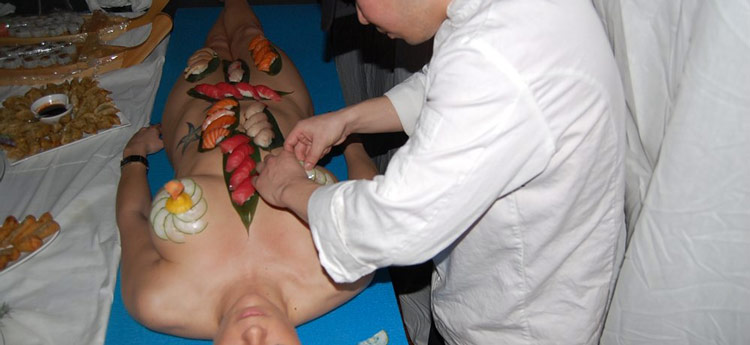 Move your children away from the screen…Welcome in this Japanese restaurant that also serves American grilled meat.
The most popular concept of the place is the "Body Sushi". The tray filled with delicious Sushi is put… on the naked body of a woman in the middle of the table! As long as you eat, you slowly undress the woman…you said hot?
Address: 6572 N Decatur Blvd #150
Type: Japanese cuisine, Steaks & Sushis
Prices: $11-$30
1 - Mastro's Ocean Club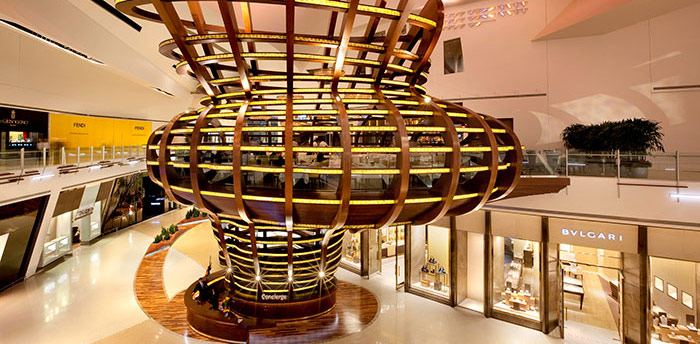 It is, maybe, the most unusual place. The Mastro's Ocean Club restaurant is located in a stunning 80 ft. wood structure, right in the middle of the mall Chrystals at CityCenter. The breath-taking structure is so luxurious and sophisticated that many visitors are stunned while discovering it each day.
But the most amazed are the clients inside the place. That could be also you!
Address: 3720 S Las Vegas Bvd
Type: American cuisine, Fish/Seafood
Prices: More than $61