Looking for thrills in Vegas? We want to share with you 7 not-to-be-missed attractions in Sin City.
THE BIG APPLE ROLLER COASTER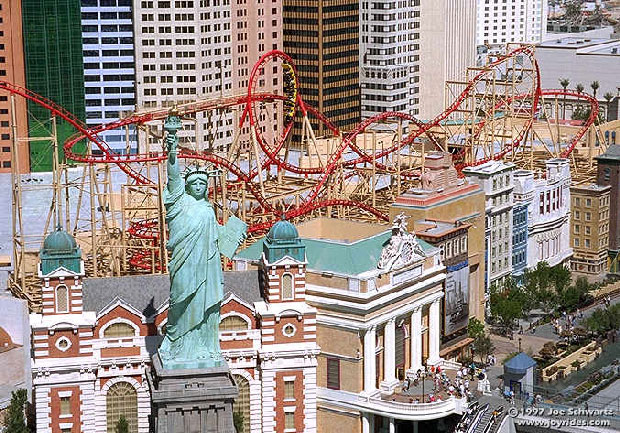 A breathtaking roller coaster around The New-York New-York Hotel with an amazing view over the Strip.
Open every day. From 11am to 11pm from Sunday to Thursday and from 10:30am to 12am on Friday and Saturday. It's even better at night!
3790 Las Vegas Blvd
$14
INSANITY THE RIDE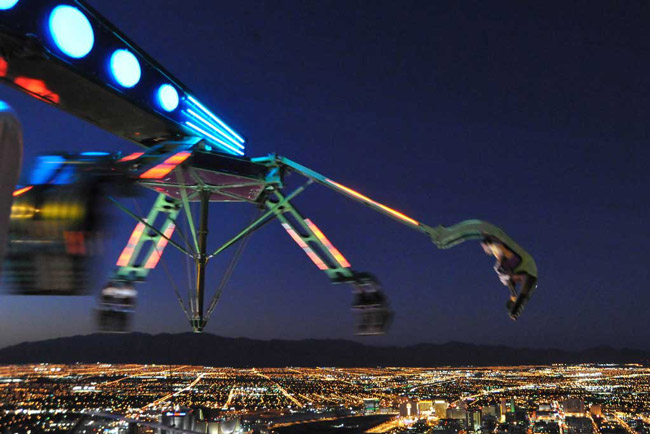 The highest observation tower in the States and the highest building in Las Vegas, The Stratosphere, offers Insanity the Ride. Climb in! At about 1000 feet above ground, enjoy a unique view over the city if you can keep your eyes open.
In the same tower, three other attractions are also available. You can be propelled headfirst with Xscream, a kind of giant teetor-totter in the air, enjoy Big Shot, a thrilling 1000-foot Drop tower and if you are brave enough, the highest commercial decelerator ever, Skyjump.
2000 S Las Vegas Blvd.
Access to the tower: $20 for adults, $12 for children. Each attraction: $15, Skyjump: $119.99.
VEGAS INDOOR SKYDIVING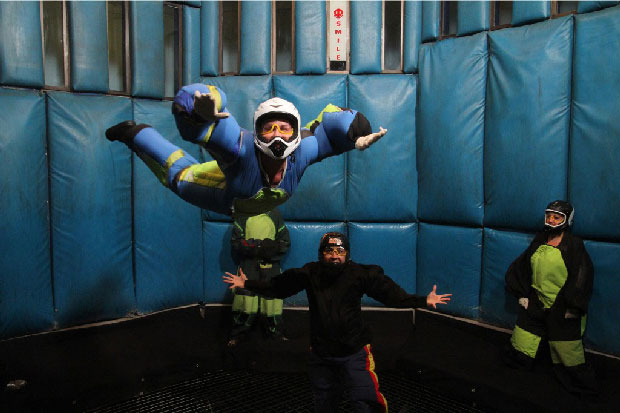 You want some thrills even though you are scared of heights? Try this skydiving experience indoor. Of course, the view has nothing to do with the one you get if you go on top of the Stratosphere, but you still get a thrill!
Fly during about one minute three times thanks to a vertical wind tunnel: little by little, you will be more confident and you might succeed in performing some figures. A staff member is always there to give you advice and ensure your safety. A really good attraction if it's rainy!
200 Convention Center Dr
Open every day from 10am to 8pm.
$75
SLOTZILLA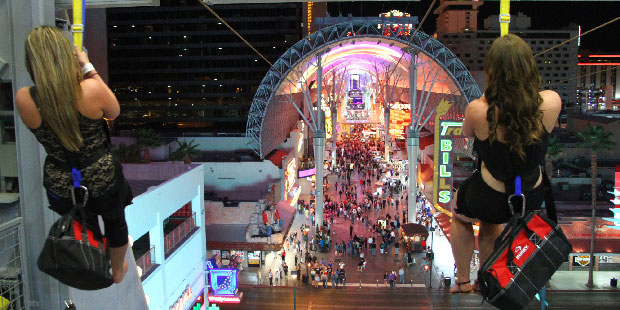 Have you ever seen Freemont Street from above? You need to try the SlotZilla zip line. Fly from this 12-story slot machine, either from the lower line (77 feet) Zipline or from the upper one, Zoomline (114 feet) both really nice if you want to pretend you are a superhero.
425 Fremont Street
Open every day from 12pm to 12am and until 2am on Friday and Saturday.
Upper line: $40
Lower line: $20
VOODOO ZIPLINE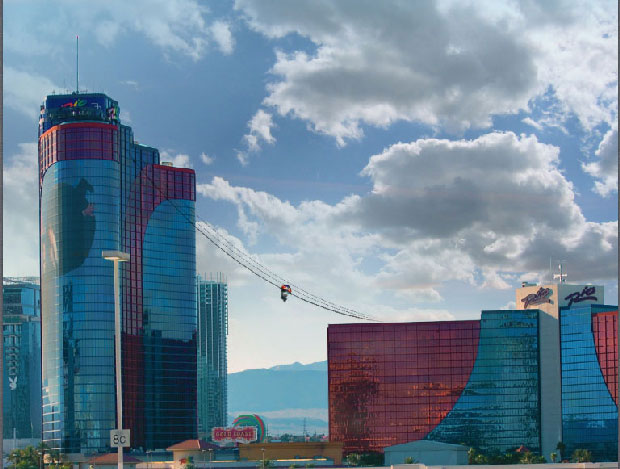 If you really are looking for thrills in Vegas, don't miss the 490-foot zipline, starting in Rio's Masquerade Tower. It will bring you to another tower of the Rio hotel, the Ipanema Tower, at 35 miles per hour within about two minutes that you won't forget.
3700 W Flamingo Rd.
Open every day from noon to midnight.
$27.49
EL LOCO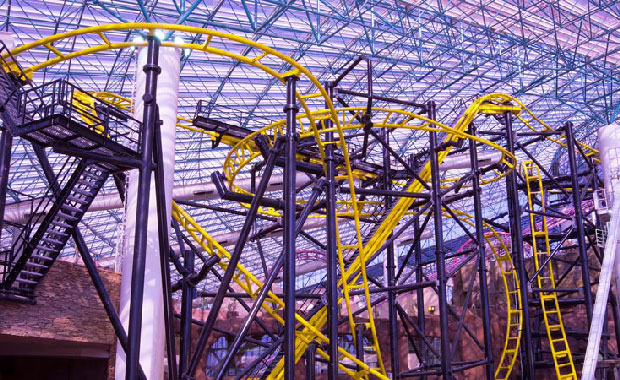 If you are with your children, you need to go the Adventuredome Theme Park, it is the largest indoor amusement park in the world!
It is part of the Circus Circus hotel. One of the roller coaster, El Loco, will get you thrills. The other rides are more for children. You should go to the Stratosphere if you don't have much time to spend in the city.
2880 S, Las Vegas Blvd
Friday and Saturday from 10am to 12pm.
Roller coasters $12 each, every other rides coast between 5 and 8 dollars. You can also buy tickets for the day: $17.95 for the Junior pass and $29.95 for the Regular pass.
THE LINQ HIGH ROLLER

If you just did one of the seven rides listed before, take a break on the highest wheel in the world: 550-foot tall. Enjoy the view over the city center in one of the 28 air-conditioned and transparent pods and listen to Las Vegas history. A 30-minute wonder for children and adults!
Behind the Imperial Palace Hotel and Casino and the Flamingo Las Vegas.
Open every day, every two hours between noon and 2am. Last ride at 23:59pm!
$21.95 daytime and $36.95 nighttime (from 6pm).
For teenagers between 13 and 17: $16.95 daytime and $26.95 nighttime.
It's free for kids under 13!