You've taken your decision: you are going to Las Vegas! Now, you have to choose and book your hotel room. We have already told you, in a recent article, that many hotel casinos of Vegas add a resort fee to the bill.
Maybe you want to save some money and you prefer to pay just for your room. But the fact is that you don't know which hotels do not apply resort fees?
Well, there is no time to be worried. Here a top 10 of the hotels of Las Vegas without resort fees!
10 – Arizona Charlie's Decatur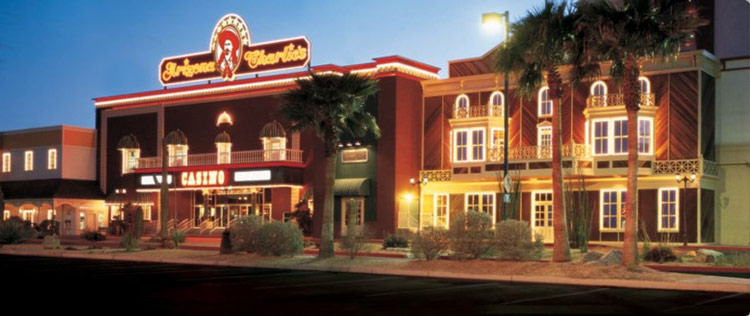 The Arizona Charlie's Decatur provides 260 rooms. Its location is ideal, you will be close to the I-95 highway. The Strip and downtown are also easily reachable by car.
The hotel features also over 1,000 slot machines and 24-hour bingo parlor. During summer, you will enjoy a swimming pool and a hot tub.
6 restaurants and 3 bars are also available for the casino's clients.
Address: 740 S Decatur Blvd
Price: Affordable
9 – Arizona Charlie's Boulder

Located 10 miles from McCarran Airport and the Las Vegas Strip, the Arizona Charlie's Boulder features 300 affordable rooms.
The gambling enthusiasts will be pleased to see that the hotel provides also over 1,000 slot machines, a 24-hour bingo parlor as well as a small sport book arena and table games.
4 restaurants and 2 bars will be there to satisfy your needs.
Address: 4575 Boulder Hwy
Price: Affordable
8 – Four Queens Hotel & Casino

The Four Queens Hotel and casino is an old-fashioned style hotel-casino located in Fremont Street, the old downtown.
The property contains not less than 650 basic rooms. A casino and a sport book parlor will be available for those who love to bet.
Live entertainment could be enjoyed at the Mike Hammer Comedy Magic, situated within the venue.
Address: 202 Fremont Street
Price: Medium
7 – Fremont Hotel & Casino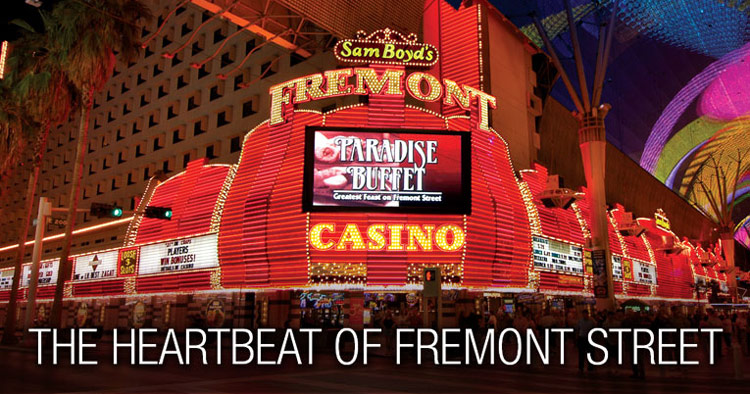 You will find the Freemont Hotel & Casino within the newly revitalized area of downtown. The hotel features 447 rooms while the casino provides to its visitors over 1,000 slot machines and electronic gaming machines.
Plus, traditional table games as well as sports book area are available.
The access to the Strip is really easy if you prefer to experience its craziness.
Address: 200 East Freemont Street
Price: Medium
6 – Main Street Station Hotel & Casino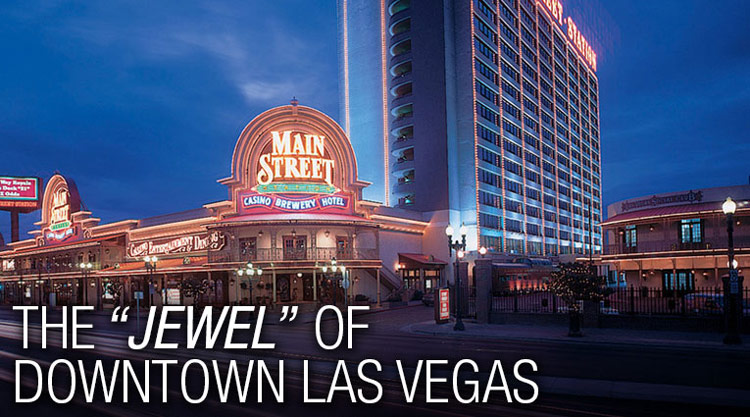 The Main Street Station Hotel & Casino is a beautiful and impressive venue located just one block away from the Freemont Street.
The casino provides to its visitors over 800 slot and electronic game machines as well as antique slot and gaming machines.
The décor is one of the high values of the hotel. You will access to the 406 rooms by entering to the lobby fashioned after a train deport including multiple pieces of historic stained glass.
Address: 200 N Main Street
Price: Medium
5 – California Hotel & Casino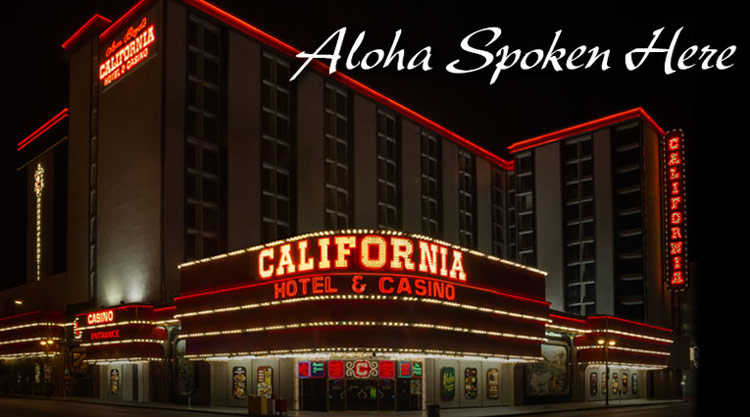 The California Hotel & Casino is ideally located nearby the Freemont Street Experience, the Mob Museum or the Las Vegas Premium Outlets-North.
The hotel provides more than 700 rooms with Hawaiian theme created by Sam Boyd.
The casino will please the gamblers thanks to its 1,000 electronic gaming machines, its sport book arena with 14 big screens televisions and traditional gaming tables.
Address: 12 E Ogden Ave
Price: Medium
4 – Wyndham Grand Desert Resort

First of all, the main advantage of the huge Wyndham Resort remains in its situation: just two block off the Strip.
But there are more than that; the venue features 787 suites style rooms including separate sleeping areas, a kitchenette and sofas.
Relaxation is at its best with the 3 swimming pools and four hot tubs.
Address: 265 East Harmon Ave
Price: Medium
3 – Marriott Las Vegas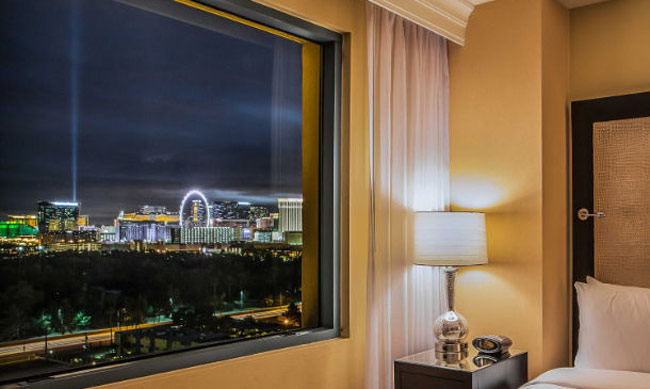 All knows the reputation of the Marriott hotels. The Las Vegas venue is not the exception, far from that. The hotel features modern style rooms and a high quality service.
You will have also access to a fitness center, a swimming pool, a meeting room and a parking lot.
Located nearby the Strip and the convention center, you will be close to the action.
Address: 325 Convention center Drive
Price: High
2 – Desert Rose Resort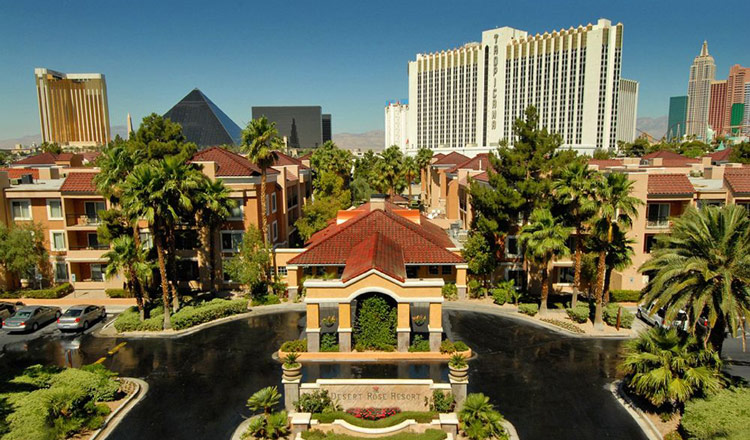 The Desert Rose Resort looks like a resort from the Strip but without the Resort fees! Just two blocks from the end of the Las Vegas Strip, its location is ideal for those you want to experience all the Strip excessiveness.
You will the choice between 1 or 2 bedroom suites that includes a separate sleeping room, a private patio or balcony and a living room.
You can also cook in the furnished kitchen. If you ate too much, head to the fitness center!
Address: 5051 Duke Ellington Way
Price: Medium
1 – The M Resort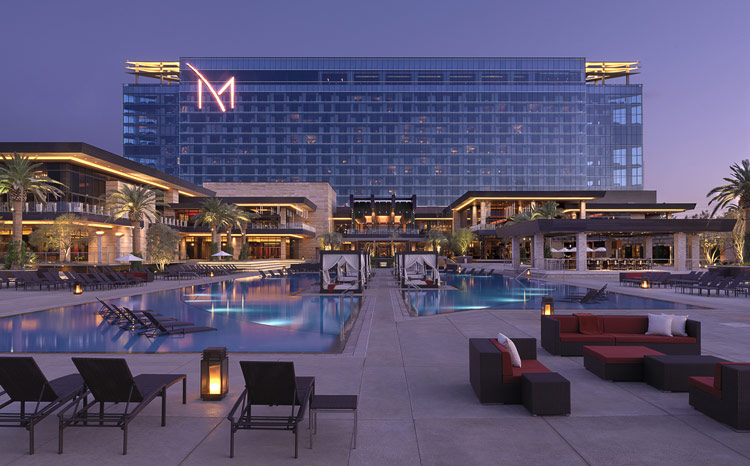 The M Resort is first in our top 10 because it featured everything that you need to spend a wonderful stay in Vegas.
The hotel contains 390 resort style rooms and large executive suite, all equipped with Bose sound system.
The gambling space has 92,000 sq. ft. available with an on-site sports book that includes a 103" television!
You will have access to a fitness center, a swimming pool and 7 restaurants.
You will reach the Strip by using the M resort free shuttle service.
Address: 12300 S Las Vegas Blvd, Henderson
Price: Medium
You have now all the information you need to choose the right hotel for the best of experience in Sin City!