Back in the mid-2000s, Microgaming – one of the world's largest casino game developers – struck a deal to license the image of Lara Croft on one of its online slot machines.
The game, Tomb Raider Slots, is now attributed to being the first-ever branded online slot game. That is to say it was the first game that took the intellectual property of a movie, video game, etc., and used it in its product.
Since then, many games developers have followed in the footsteps of Microgaming by partnering up with movie studios, rock bands, and just about everything else in between to create branded slot games.
You can understand the reasons for it, of course, as it creates crossover appeal. For instance, if you were a rock music fan, you'd instantly be attracted to playing Guns N' Roses video slots (NetEnt) ahead of an unremarkable game based on fruits, bars, and 7s.
But while Guns N' Roses is certainly up there among the most popular slots online, there are many other branded games that players love. Below, we provide a selection of those from different developers:
Ted (Blueprint Gaming)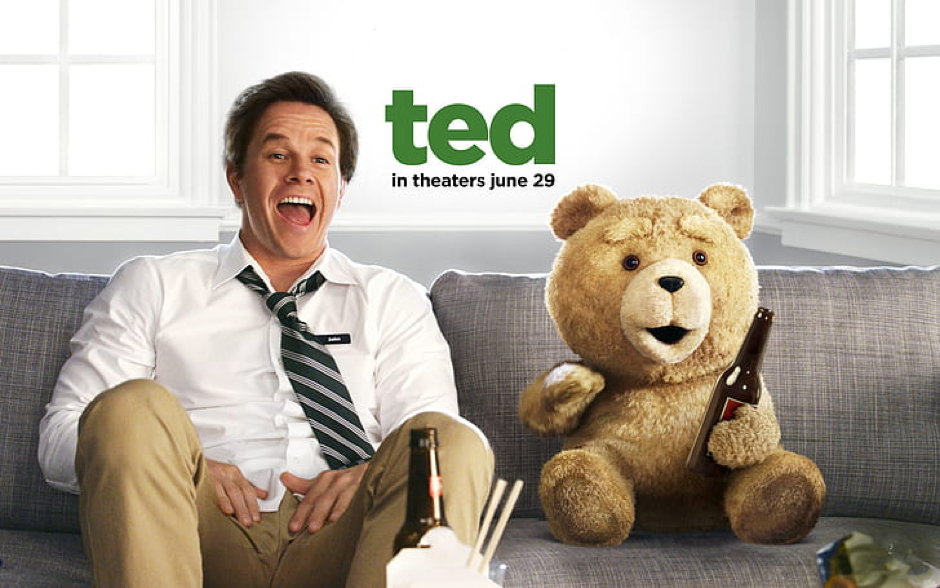 We all know Ted as the smart-mouthed bear from the Seth MacFarlane movies.
It might not seem like a natural fit for a casino game, but Blueprint Gaming was able to create a fun-filled game based on the adventures of the wise-cracking stuffed animal that comes to life.
Blueprint really does a great job of incorporating "Ted" into the action, as the character will call the action as you play. More importantly, this game is not about branding for the sake of it.
Ted helps you in your play with several bonus games and reel modifier features. In fact, Blueprint is famed for its commitment to innovative bonus features.
With Ted, you get to gamble your way up a bonus ladder, with the top features arguably Ted Free Spins and Ted's Big Money Bonus. The in-reel features can also be fun and lucrative, particularly the Colossal Symbol spin.
All of these features combine to make Ted a five-star game. As an aside, there is also a Ted Megaways game by Blueprint. But the original is still the best.
Gladiator Jackpot (Playtech)
As rumors abound that the Russell Crowe sword and sandals epic is getting a sequel, we thought we would bring this classic jackpot game to your attention.
It's big and bold, featuring video footage of all the characters of the Oscar-winning movie. What we really like about this is that it feels way ahead of its time.
Playtech released the slot all the way back in 2008 (a very long time in online casino terms), but the graphics and gameplay still hold up the day. If you look around different online casinos, you can find different versions of this game, i.e., a version of Gladiator without the progressive jackpot award.
Each to their own, but we prefer to play the version with the big jackpot on the line. If you do get bored playing it after a while, be aware that Playtech released a sequel, Gladiator: Road to Rome.
Jurassic Park (Microgaming)
For our money, this is Microgaming's best-ever game, and that's saying a lot for a casino games developer that has released 100s of titles since the 1990s.
Anyway, this is, of course, based on Steven Spielberg's masterpiece, and it takes lots of the action from the movie and inserts it directly into the slot.
One of our favorite elements of this game is that new features will unlock over time as you play, and that includes different bonus games based on the T-Rex, Raptors, and all the other stars of the movies.
This was one of the first branded slot games to truly incorporate footage from the source material, so you get to see clips from the movie, the 'real' dinosaurs, characters, and so on.
Microgaming also released new slots to coincide with the Jurassic World reboots, but, again, we prefer the original in this case.
Narcos Video Slot (NetEnt)
This one is, of course, based on the Netflix series of the same name. It is an interesting game to highlight, as we cannot think of a casino game that had a bigger marketing campaign before its release – there was even a trailer with Narcos actor Luis Guzman.
Anyway, the game itself is a lot of fun, even if it might be a little violent for some tastes. It's a must for fans of the show, and it's a good option for those who enjoy NetEnt's style of slot games.
Perhaps the best thing about Narcos is that it has got quite a low variance – small wins, quite frequently – making it a decent choice for making casino bonus wagering requirements.
Still, don't let the low variance put you off, as there are ways to win a hefty wedge of cash with NetEnt's Narcos Video Slot. Definitely a top slot.
Franke Dettori's Magic Seven (Playtech)
We said earlier that branded slots could be based on almost anything, and this one is based on a sporting event that took place all the way back in 1996.
It celebrates the jockey Frankie Dettori, who won seven races in a row at Ascot. While that might seem like a weird premise for a slot, Playtech worked wonders with the gameplay by incorporating fun horse-racing-themed bonuses and features.
The game was created back in the late 2000s, and it followed up Microgaming's Tomb Raider slots as being one of the first truly well-known branded online slot games.
To be fair, graphics have dated a little bit in Frankie Dettori's Magic Seven, and you might even consider trying NetEnt's Scudamore's Super Stakes instead. But, despite the graphics, the gameplay is magnificent.
The game is available to play both as a progressive jackpot slot and a standard slot game. There were also scratchcards and roulette games based on Dettori's exploits, although they seem to have been removed from many online casino sites.