The Poker is not limited to Texas Hold'em or Omaha games.
Indeed, some variants can be practiced directly against a croupier and therefore without the need to have other players around the table!
That is why we give you the opportunity on CasinosAvenue to let you try free online poker games.
They are accessible when and where you want.
Play Online Poker
Free Poker Games
No matter what choice you are going to make, you will not have credit limits by playing with these flash games.
Indeed, a simple right click on "Refresh" will allow you to reload your chips if you have mistakenly lost everything!
Other good news, you won't need to register or download software to have fun!
Paid games
If you prefer to play real poker in a physical casino, do not worry, you simply have to click on the space "Play in casino! " on this page or on the link « Near me ».
If online poker games have your preference, but you would like to play real money, you can also sign up for our online casino partners located under the games. Be careful, they will be available or not according to the current legislation in your country.
Ultimate Poker Texas Hold'em Online
Rules
Before starting the game, the player must bet in the squares « Blind » and « Ante ».
Once this is done, you will receive two cards, the dealer will also receive two and he will put 5 cards on the table that will represent the « board » as in traditional Texas Hold'em. All the cards distributed and placed will be for the moment games down.
If your cards do not suit you, you have the option of "Checker" and the flop is displayed. At this stage you can check again and get the "Turn" and "River" or double your bet if you think the flop is favorable.
If you have checked again, the 5 cards are now on the board and you have to either pay again to see what the dealer has and then play your cards or fold.
If your cards suit you, you can directly quadruple your starting bet and the 5 cards of the board will be discovered immediately. After the dealer has returned his, it's time to know if you've won!
Betting Strategy
Depending on the two cards you get, you are advised to check or raise.
If you follow the latter, you will reduce the bank's advantage to the bare minimum.
For greater comfort and in order to survive a big empty pass, it is recommended to have 100 times the minimum bet at the beginning of a game.
Find all the information about Ultimate Poker synthesized in an infography just below!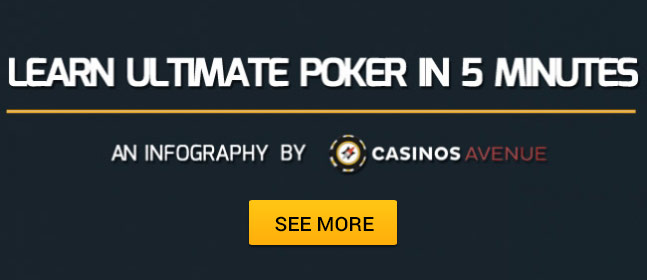 Stud Poker Online
Rules
If you master the value of poker combinations, you will have no trouble participating in Stud Poker games online, free or not! Indeed, this game is very simple.
It is played against the bank and the goal is to obviously get a better game than the croupier.
After placing the initial bet on the "Ante" box, the croupier will distribute 5 cards face down and ending with his own. On his 5 cards, he returns an open face card.
Following this, two options are available to you:
- Pass: your game does not suit you, you lose your stake.
- Relaunch: You are required to place a bet of twice your ante and leave your cards.
The dealer must have at least one Ace and one King to qualify. If this is not the case, he announces "No game" and the Ante bet is doubled, the raise bet (for those having done so) is recovered.
If he has at least one ace and one king, the game continues and the comparison with the players takes place.
If the croupier has better, everything is lost, if it is tied, it is recovered and if the player wins, the Ante bet is doubled and the raise bet is paid according to the redistributions gain below:
Royal Flush: 100 for 1
Flush: 50 for 1
Four of a kind: 20 for 1
Full House: 7 for 1
Color: 5 for 1
Straight: 4 for 1
Three of a kind: 3 for 1
Double Pair: 2 for 1
Other Hands: 1 for 1
Tips
It is advisable to fold if your hand is not higher than As, King, Jack, 8, 3.
This, in order to reduce the casino advantage to 5.3%.
If you are offered bets for a progressive jackpot or a bonus, even if it is tempting, avoid doing so because the casino advantage is too high.
Find all the information about Stud Poker synthesized in an infography just below!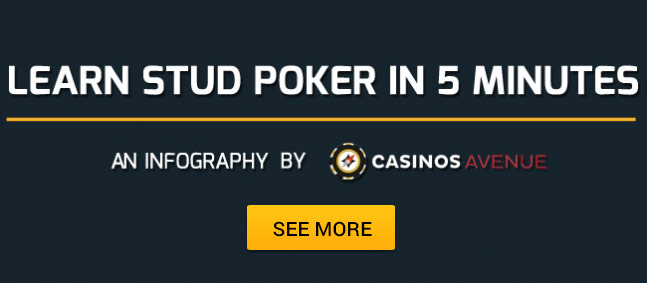 The 3-Card Poker Online
Poker Rules
As for the previous games, the free Three Card Poker or with real money is played against the croupier.
As the name suggests, your hand will consist of three cards, as for the dealer.
The one with the best combination will win!
Before the beginning of each game, you must at least bet on the "Ante" square in order to get the cards.
If your cards do not please you, you can fold but lose your bet.
If your cards suit you, you can raise.
Then, the croupier shows his game and if he has at least one Queen, he is qualified. He wins if he has a better game than you but if not, the player doubles his "Ante" Bet and recovers the "Play" and receives a bonus bet if he has at least one suite.
A "Pair Plus" bet allows you to win 40 times your bets in the event of a straight flush.
If the croupier is not qualified, all players will win.
Poker Strategy
It is advisable not to raise if your cards are below Queen-6-4 to reduce the casino advantage to the maximum.
It is also advisable not to bet on "Pair Plus" for the same reasons.
Find all the information about Three Card Poker synthesized in an infography just below!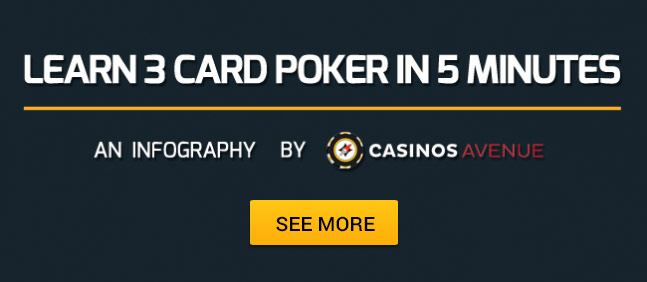 Other variants of online poker games
You may find other variations depending on the sites or casinos consulted such as Online Casino Hold'em, High Low Online Casino, Online Poker Pursuit and many more!