After the top 8 Las Vegas best nightclubs, which you really liked, we wanted to offer you another ranking. Indeed, here we come with the top 14 Las Vegas' best shows for the coming year.
Las Vegas is well known to be the world's capital of entertainment. However, we can't forget that it's also the world's capital of unique and exceptional shows. It must be said that no other city can compete with Las Vegas' facilities allowing to host shows, events and concerts of this kind.
Every night, not less than a hundred of all kinds of events are available in majestic resorts. Between comedies, magic shows, musicals, dance shows, adult shows, and circus performances, there is one for everyone's taste. You won't fail in finding your favorite.
We listed below our selection of the 14 not-to-be-missed shows along with some practical information concerning time and price.

14. ZUMANITY by Cirque du Soleil at New York New York


If you like adult-only shows, Zumanity serves you a unique sensuality through dance moves and gymnastics. The troupe exclusively reveals its new provocative side, just for you in a quite erotic show at New York New York Hotel & Casino.
*Genre: adult show.
*Time: from 7:00 to 9:30 pm.
*Price: from $66.




13. BLUE MAN GROUP at Luxor
It's a three in one show. It combines comedy, drama and rock concert. All this is to be found in one and only show. The music and lighting effects are captivating and rousing. The Blue Man Group manages to communicate with you without saying a word through mimes, no need to understand English to enjoy the show at Luxor Hotel & Casino. Laughter guaranteed!
*Genre: drama – musical.
*Time: from 7:00 to 9:30 pm.
*Price: from $93.




12. DAVID COPPERFIELD at MGM Grand
David Copperfield is a famous American prestidigitator. In his shows at MGM Grand Hotel & Casino, he put on his magician cape and performs astonishing illusions which you've never seen before. In a cabaret atmosphere, you'll be surprised at how many tricks he has for you, if you are called out on stage. The little humor is really appreciated.
*Genre: magic show.
*Time: 4:00 pm, 7:00 pm and 9:30 pm.
*Price: from $87.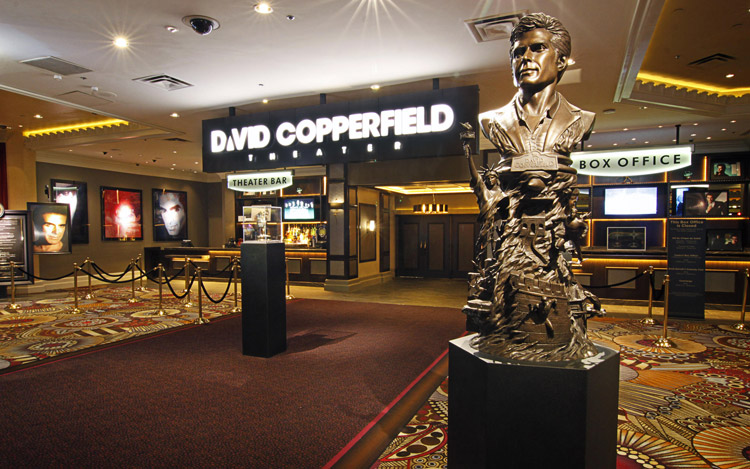 11. PENN & TELLER at Rio
Penn & Teller is a duo of eccentric magicians and comedians who puts on their show in the Rio Hotel & Casino's theater for many years. Formed by Penn Jilette and Raymond Teller, they are known for their performances mixing comedy and illusions. In their show, while Teller will rather seem quiet, Penn will talk for three people. This crack squad combines magic tricks, gags and laughter until your stomach hurts. Just a friendly reminder, you'd better understand English to keep up with Penn & Teller jokes.
*Genre: magic show – comedy.
*Time: 9:00 pm.
*Price: from $59.




10. O by Cirque du Soleil at Bellagio
Performed in the famous Las Vegas Bellagio Hotel & Casino for almost 17 years, it's one of the oldest shows of the city. How to accurately describe O with three words? Probably extraordinary, magical and spectacular. Enjoy the artistry of the so called Cirque du Soleil troupe, who stages surrealism and theatrical romance in the "O" production. Acrobats will amaze you with their feats performed up in the air such as spectacular high dives. A superb show in the water as well as on the floor and in the air.
*Genre: drama – circus.
*Time: from 7:00 to 9:30 pm.
*Price: from $123.




9. MYSTERE by Cirque du Soleil at Treasure Island
Mystère is the troupe's oldest show, it has been filling the Treasure Island Hotel & Casino's concert hall and not by chance. If you want to be amazed, Cirque du Soleil will go beyond your expectations with Mystère. The show will immerse you in a dreamworld through varied acrobatics numbers performed by trapeze artists. With original and colorful costumes, you will go back to your childhood. Clowns, special effects and a lot of humor will be there.
*Genre: drama – circus.
*Time: from 7 to 9:30 pm.
*Price: from $74.




8. JERRY SEINFIELD at Caesars Palace


Humorist Jerry Seinfield welcomes you in the huge hall of Caesars Palace that is the Colosseum for his show that will put you in a jolly mood. This comedian, whose career is as long as his arm, will make you laugh for sure with his society-themed sketches.
*Genre: adult show.
*Time: 7:30 pm.
*Price: from $105.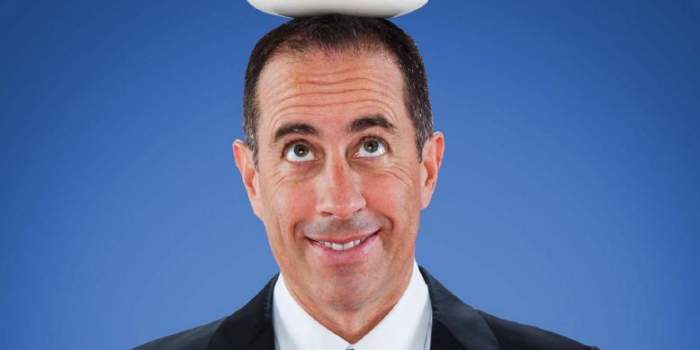 7. CELINE DION at Caesars Palace
Don't miss the performance of the famous Quebecer pop singer who is back at Caesars Palace casino for several concerts. Resident performer for a couple decades, she's performing the beautiful Collosseum venue. Along with a big orchestra, she will sing film-themed songs. You'll leave very relaxed.
*Genre: concert.
*Time: 7:30.
*Price: from $102.




6. ABSINTHE near Caesars Palace
In a fabulous setting, the show takes place in a Big Top set up in front of the Caesars Palace. Absinthe is a outrageous comedy and was billed as the most inventive and daring show of the Strip. With bizarre and zany jokes, you'll see superb circus numbers.
*Genre: comedy.
*Time: 8:00 pm and 10:00 pm.
*Price: from $97.




5. MICHAEL JACKSON ONE by Cirque du Soleil at Mandalay Bay
It's one of the most popular shows lately. Driven by the rich and powerful MJ's songs and performed as never before in a mind-blowing scenery, the Cirque du Soleil troupe pays tribute to the King of Pop, as it should be. Acrobats really blows you away between the Michael Jackson universe and the circus. This rhythmic show will get you immersed in a series of breathtaking acrobatics, music and spectacular effects. Emotions and shivers are guaranteed at Mandalay Bay Hotel & Casino!
*Genre: circus – musical.
*Time: from 7 to 9:30 pm.
*Price: from $83.




4. THE BEATLES LOVE by Cirque du Soleil at Mirage
Cirque du Soleil makes you enjoy The Beatles' songs as never before. The LOVE show explores the lyrics of their songs and stage them through real and imaginary characters. Have a seat and appreciate the aerobatics, extreme sports and contemporary dance numbers that the troupe has to offer at Mirage Hotel & Casino.
*Genre: circus – musical.
*Time: from 7 to 9:30 pm.
*Price: from $78.




3. TERRY FATOR: THE VOICE OF ENTERTAINMENT at Mirage
Terry Fator is the star of the moment at the Mirage casino. With his show, he will capture your hearts as a singer, puppeteer and impersonator. Be ready, his magnificent voice, his incredible humor and his one-of-a-kind celebrity impressions of musical superstars such as Garth Brooks, Dean Martin, Aretha Franklin, Lady Gaga and more will take your breath away. Even if your English skills are very basic, the show is well designed for everyone to enjoy.
*Genre: comedy – concert.
*Time: 7:30 pm.
*Price: from $66.




2. JERSEY BOYS at Paris Las Vegas
Find Jersey Boys throughout the year 2016 at Théâtre des Arts at Paris Las Vegas Casino & Hotel. This Broadway musical combines comedy, drama, dance and music to tell the story of Frankie Valli & The Four Seasons (famous rock band) through their hit songs including "Sherry", "Walk Like a Man" and "Big Girls Don't Cry".
*Genre: musical.
*Time: from 7:00 to 8:30 pm.
*Price: from $60.




1. LE RÊVE at Wynn Las Vegas
Le Rêve – The Dream, will get you immersed in both an exciting and mysterious universe with an incredible scenery where water comes to mingle with choreopgraphy. From thrilling dives of several meters high to "underwater" tango, the performers will get you captivated by combining acrobatics and spectacular music and lighting effects. The layout of the Wynn Hotel & Casino's hall will give you a sort of feeling of proximity with the acrobats during the whole show (a maximum of 14-meter distance). It's full of original setting, costumes and choreographies. THE not-to-be-missed show!
*Genre: circus.
*Time: from 7:00 to 9:30 pm.
*Price: from $114.



Here you go with the 14 best 2016 shows. So, which one of them are you excited to see?