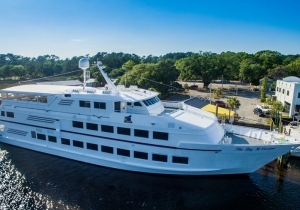 The Big "M" Casino Ship I
The Big "M" Casino is a gambling casino cruise departing from Little River, SC just minutes from Myrtle Beach. This Ship offers players a Smoking Optional gaming option. …
1 reviews
United States
4491 Waterfront Ave 29566 Little River
The State of South Carolina, SC is located on the Eastern coast of the United-States just below North Carolina. Its population is estimated at 4,6 million and its capital and main city is Columbia.

There is only one gaming establishment within SC. It is a very special venue as it is a gaming ship. The Big m Casino Ship I departing from Little River and running through Intracostal Waterway. This casino ship provides a wide range of slot machines including multi-line games and nickel slots. It also features popular table games such as Roulette, Craps and Blackjack. A buffet is provided for the gourmet players.

As said, Columbia is the main and most populated city in SC. It gathers a great deal of activities to enjoy all year long from museums to shopping and restaurants to relaxation. According to a survey, Columbia was listed in the 30 most pleasant cities of U.S to live in.

The main places and monuments to visit here remain the South Carolina State House, the Columbia Canal and Riverfront Park, the Harbison State Forest or the Tunnel Vision Mural. For spectacular shows, you can assist to a Football game at the University of South Carolina. The stadium is always full and shows are on the field and around.

Benefiting form a privileged position on the Atlantic Ocean coasts, the State provides many beautiful bays and beaches. The most popular remain Myrtle Beach, Edisto Island or Isla of Palms.

Nature lovers will have plenty of choices in front of us. It will be hard to choose between Angel Oak Tree, Middleton Place or BookgreenGardenn for example.

Coming in family is a must thanks to the many themeparks available all round SC. Mostly water parks; they allow the whole family to have plenty of fun. The main ones are the Family Kingdom Amusement Park of Myrtle Beach, the Hawaiian Rumble of North Myrtle Beach or the Wild Water & Wheels of Surside Beach.