Whether you're a new slot player or seasoned veteran, you'll have seen the term 'RTP'. It's this RTP or return to player that helps players gauge very roughly what the house edge of a game is.
When it comes to choosing real money slots to play on, picking the highest RTP is a commonly used method. This causes players to seek out the online slots with the highest RTP.
In this article, you're going to discover the top games when it comes to RTP. We'll also cover a few bits about RTP percentages as a refresher!
What is RTP?
RTP stands for Return To Player. This number is a percentage that's calculated over a huge number of spins. It's often viewed as a sort of 'reverse house edge'. So if the RTP of an online slot is 97%, then the casino's edge would be 3%.
This percentage is a theoretical number for how much a player would win back over time.
An RTP of 97% would mean that over a long period of time a player would theoretically win back 97% of what they deposited on the slot.
Remember that this number is totally theoretical and not a guaranteed return. This is because online slot games are completely random. Whilst RTP is not a definitive indicator of how often a game plays out, punters often use this number to choose what slot to play.
Slot games come in a wide range of percentages. Anything below 94.99% should be considered a low RTP. Between 95 - 97.99% is about average for online slot games. Then 98% and higher is what's considered high RTP.
Let's take a look at some of these high RTP slots:
1. Ugga Bugga - 99.07% RTP
This jungle-themed slot from Playtech has one of the highest RTPs out there. If you're looking for an action-packed slot that has 99%+ RTP, 'Ugga Bugga' fits the bill nicely.
'Ugga Bugga' was released back in 2006 and has an enjoyable tribal theme. Expect bongos and tribal masks all over the place as you spin the reels. What's special about this game is the fact that there are a whopping 10 rows of reels.
Along with this unique layout, you've also got 10 paylines and low volatility which adds up to a nice little slot game!
2. Rainbow Riches Pick 'n' Mix - Up to 98% RTP
Barcrest upped the ante with this sequel to the smash-hit 'Rainbow Riches'. This update was released in 2006 and added a whole slew of bonus features.
If you want to boost your RTP up to 98% then you'll have to activate Big Bet Mode. This special mode increases your stake and gives you the chance to trigger three bonuses. On top of this, you've got the same eye-catching graphics and the plucky little leprechaun returns!
3. Mega Joker - 99% RTP
Industry giants NetEnt appear next on our list with the 2013 release, 'Mega Joker'. This slot was created with the classic slot game feel in mind and shares in their simplicity. This simplicity shines with the 3 reels, 3 rows and 5 paylines set-up.
'Mega Joker' comes with a progressive jackpot to accompany this high RTP. It's these two factors that have made it a fan favourite for almost 10 years.
4. Ooh Aah Dracula - 99% RTP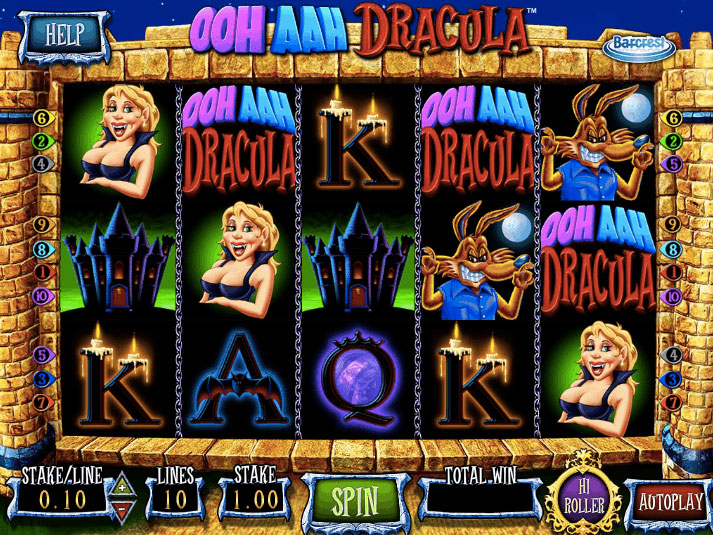 Barcrest is back on the list with a vampire slot with a twist. 'Ooh Aah Dracula' is well known for its wacky images, energetic soundtrack and colourful design. If you've ever wanted to mix the story of Dracula with a cartoon style… this is the slot for you!
The game itself features a classic set-up of 5 reels and 3 rows. Also in the mix are bonus rounds which include one that's a pick and click mini-game. Keep your eyes open for the high roller Big Bet option if you want the highest RTP.
5. 1429 Uncharted Seas - 98.6% RTP
This online slot from Thunderkick has one of the most striking visuals in the industry. The reels are depicted as being on an old map of the oceans, which makes for an incredible experience when you're playing.
Aside from the huge RTP and incredible style, there are plenty of other things on offer here. These include free spins bonuses, wilds that expand and a cool 25 paylines.
6. Jackpot 6000 - 98.86% RTP
Finally, we have another game from NetEnt - 'Jackpot 6000'. In a similar style to 'Mega Joker' mentioned earlier, 'Jackpot 6000' has a classic slot game feel. Whilst this may not be exciting for some players, the trade-off is an absolutely incredible RTP.
You'll also find an in-game jackpot that is accessible through a feature known as the Supermeter. This feature allows you to use your winnings to play on a Supermeter which can payout up to 6,000 coins or reveal a mystery prize!