Anyone following the iGaming industry will be acutely aware of the position of Evolution Gaming as the leading brand of live dealer gaming.
The Swedish company, while facing competition from the likes of Playtech, Pragmatic, and Microgaming, has found itself in a dominant position in offering live games, with its software and gaming studios used by numerous casino brands around the world.
Evolution has, in fact, expanded into the world of virtual games through its acquisitions of NetEnt, Big Time Gaming, and No Limit City. As these, particularly NetEnt, were already established among the top providers of casino games worldwide, it's a given that anyone who plays at an online casinos for real money will have encountered Evolution games, or those of its subsidiaries.
Still, live gaming is still Evolution's core business, and it's the style of casino gaming that is most associated with its brand. The secret of its success has always been a willingness to take risks, including the launch of new genres of games like Monopoly Live.
Evolution has also been the leader in experimenting with new ways to experience online casino, and that includes the roll-out of its Dual Play system.
Dual Play remains a niche product
Dual Play was launched a few years ago. And to be clear: it remains quite a niche product. Effectively, it allows online players to play at 'real' tables at land-based online casinos.
So, as you might imagine, it requires a partnership between the land-based and online operator, as well as specialist equipment to be installed at the tables. While it's ultimately beneficial for both types of operator, such partnerships among competing strands of the industry are not always easy to facilitate.
But could Evolution's strategy here tell us something about the future of the casino industry? It's an interesting question. If you look back to the 1990s when brands like Microgaming started to program the first casino software for the nascent worldwide web, there has always been a question as to whether the online sector would digitally disrupt the land-based one.
Digital disruption is the term used for a digital industry transforming or replacing a traditional one. A commonly-used example is that Netflix digitally disrupted video/DVD stores, ultimately spelling the end for businesses like Blockbuster.
Still a clear line between land-based and online operators
However, the digital disruption of the land-based casino industry never really occurred. Sure, you might get some of the big Las Vegas casino resorts launching their own online casinos, but, broadly speaking, we have two different sectors in the industry that rarely overlap, and which don't tend to butt heads all too often.
One of the reasons for that is that there is a difference in terms of experience when visiting a land-based resort or playing online. The former is for the auxiliary experience – cocktails, dinner, music, etc. – whereas the latter is specifically for the online casinos real money games.
And yet, we are in a different world now with technology compared to the 1990s. Loading up an online game to play a few hands of virtual poker was never going to replicate the sights and sounds of walking into the Wynn or Bellagio in Las Vegas. Of course, it wasn't. And thus for 20 years of so, there was a clear line of demarcation between the online casinos and the land-based resorts near you.
Did live dealer gaming change that perception? It did to an extent. Many online casinos could offer high-stakes roulette and blackjack, with players happier in the knowledge that they were playing with real croupiers, cards, dice, etc.
This allows remote players, at least those who don't like to play games based on RNG software, to play wherever and whenever they want. However, while these games gained prominence in the 2010s – led by Evolution's suite of titles – you can still argue that they haven't really eaten into land-based casino's share of the market.
But what Evolution is touching on with Dual Play is that hybrid models might be the future. As we have stressed, the product is very niche, and it remains to be seen whether it in its current model will even be judged a success for Evolution. But it is, let's say, the concept behind the Dual Play experience that we think could shape the future of casino gaming.
Metaverse may change the casino landscape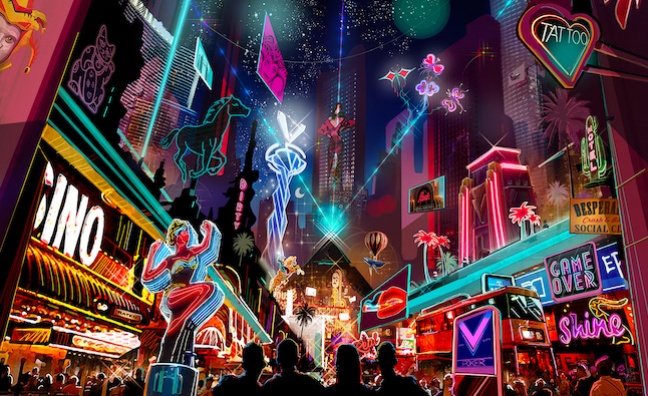 Indeed, Dual Play and similar initiatives might pave the way for what many believe to be the next step in casino's evolution (no pun intended) – the metaverse.
Right now, it might seem almost faddish to use your smartphone to play remotely at a table in a land-based casino. After all, the live dealer games on the platform are going to have the same odds. In addition, we might add that you will have a greater choice of game variants and tables online. However, with the implementation of VR/AR and the metaverse, we might be talking about a literal game-changer.
Not everyone believes that the metaverse will have the life-changing impact extolled by proponents like Mark Zuckerberg. However, you can easily see how the technology like AR/VR headsets could be used in the casino sector.
Today, you can play at a land-based casino from the comfort of your home, but tomorrow you might be able to take a seat virtually at those tables. In games like poker, you might, for all intents and purposes, be able to look into the eyes of your opponent who is based in a casino 100s of miles away from your location. That's the kind of experience metaverse backers are hoping to deliver.
It could take a few years to evolve, but these experiences might not be too far away. Some of the world's biggest casino brands are already planning for metaverse experiences. And the money coming into VR projects from the likes of Apple and Meta is substantial. Some of the world's biggest companies believe it's going to be transformative, so it's likely to have an impact on the casino industry.
So, in answer to our initial question, what does Dual Play mean for the future of casino? The answer is we do not know, at least not yet. It is a niche product, and one that might even be obsolete very soon.
However, it gives some hints on what the online sector hopes to achieve, blurring the lines further between land-based casinos and online platforms. And who knows? If – and when – the metaverse comes to fruition, the entire landscape of the industry could change forever.