We live in a world these days where everything is done online. We browse the shops online to get the best prices, book our holidays online for the best deals and even visit Boylesports for the best odds - and other top online sportsbooks - when we are looking to place our sports bets online conveniently, easily - and get the best deals.
However, sometimes it's just so much more fun to actually do these things in person, especially when faced with such a mind-blowing experience as Circa Las Vegas… the most extensive sportsbook in the world - and it is so much more. There is betting on sports - and then there is Circa Las Vegas which takes it to a whole new level…
About Circa Las Vegas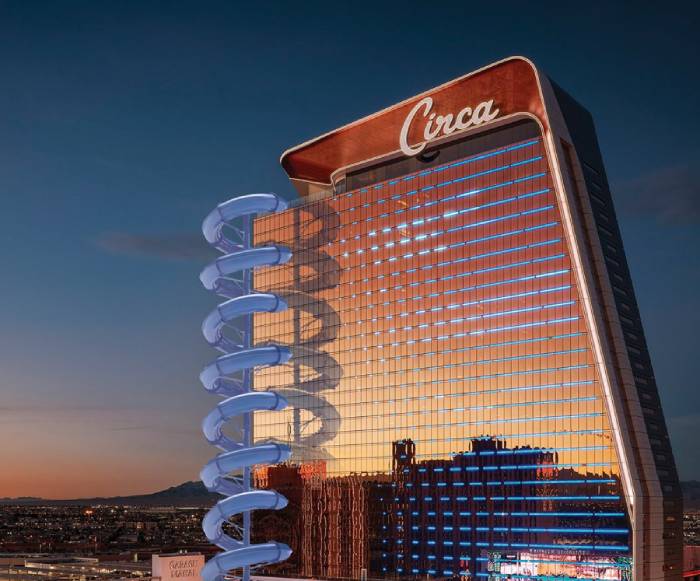 Circa Las Vegas is so much more than just your typical sportsbook - and it's more than even a standard Vegas sportsbook. This is an adults-online betting heaven - perfect for that experience of a lifetime.
Venture in and you will be stepping inside the largest sportsbook in the world, complete with a state-of-the-art 78 million pixel HD screen and the most varied and diverse betting menu in Vegas.
A Luxury Place to Stay
If you want to take your time discovering its delights, then you can even enjoy its plush accommodation options, where you can take advantage of food delivery services, WiFi - and, of course, some serious sports betting on the sports betting network VSiN's on-site studio and benefit from the professional and expert analysis from its top broadcasters and industry professionals. If you fancy getting a bit of fresh air, then you can take advantage of the outdoor pool amphitheatre for a bit of sunshine - before you get started again!
The pool, just like the sportsbook, takes things to the next level. The Stadium Swim is open 365 days a year. Set at the perfect temperature all year long, you can enjoy swim-up bars and live DJs - and, as you would expect, there is even a 143-foot screen so you can watch your bets play out as you enjoy your dip. There is even a Circa Sports app if you fancy placing your bet whilst having a swim.
Ultimately, Circa Las Vegas is unique. It is the perfect blend of old-fashioned hospitality and the most advanced technology, making it the perfect sports betting destination for a once-in-a-lifetime experience. So, if you are looking to get a taste of betting as it was made to be, it's worth a visit.
The Best of the Rest
Obviously, Las Vegas is a destination packed with many serious gambling venues - and there are some excellent alternatives if you are looking for a bit of diversity to your Vegas sports betting experience - here are some of the best of the rest…
Westgate Las Vegas Resort & Casino: Known for its expansive SuperBook, the Westgate offers a massive sportsbook with a state-of-the-art LED video wall spanning 240 feet.
Caesars Palace: The iconic Caesars Palace boasts one of the most elegant and upscale sportsbooks on the Strip. With numerous big-screen TVs, plush seating, and a wide range of betting options, it provides a luxurious and high-end experience for sports bettors.
The Venetian: The Venetian is home to the Lagasse's Stadium, a sportsbook that combines the excitement of sports betting with the ambience of a sports bar. It features a 10,000-square-foot space with gorgeous seating, multiple screens, and a menu crafted by renowned chef Emeril Lagasse.
MGM Grand: The MGM Grand sportsbook offers a vast and modern betting environment. With an enormous video wall and plenty of seating, it provides a comfortable setting to enjoy a variety of sporting events.
Wynn Las Vegas: The Wynn offers a luxurious and sophisticated atmosphere for sports bettors. It features a large LED video wall and a range of betting options, creating a stunning, upscale experience for visitors.
The Cosmopolitan: This cosmopolitan experience provides a vibrant and energetic setting for sports enthusiasts. It offers multiple screens and a lively atmosphere - this is one for the younger generation.
Red Rock Casino Resort & Spa: Located off the Strip, the Red Rock sportsbook offers a more relaxed and intimate environment. It features a large video wall and a friendly atmosphere perfect for locals and visitors.
Ultimately, Las Vegas is the home of a world-class sportsbook, so if you are interested in the sports betting experience of a lifetime, then book your flights today!