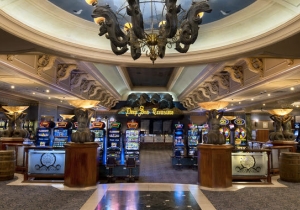 Mermaid Casino Swakopmund & Hotel
The Mermaid Casino is located inside the gorgeous Legacy Hotel & Resorts Swakopmund. The resort offers varied activities to complete your vacation: gym, wellness center, …
0 reviews
Namibia
2 Theo-Ben Gurirab Str, 00000 Swakopmund
163mi.
Having 296000 inhabitants at the time of the last count, Windhoek is a big town. It is situated in the Khomas district (Namibia).

The 2 established casinos in Windhoek (Avani Hotel & Casino Windhoek and Desert Jewel Casino Windhoek) certainly have all types of betting tables as well as loads of slot games. But did you know that live shows, happy hours, snacks or surprise games are hosted all year?

In most casinos, you'll effortlessly discover traditional gaming tables including Roulette, Poker, Blackjack and often a broad range of others, for that matter. If you are not completely comfortable starting out by yourself, you can ask a croupier for advice. They'll be delighted to show you the basic principles.

Video poker and traditional rollers will give you an opportunity to win super jackpots. From the present generation to far more classic games, there's something for anyone regardless of how much you're able to play with. In fact, minimum bets are often just a couple of cents. That's probably why slot games have long remained the stars of the casino!

As you perhaps already know, Windhoek boasts a rich history and a wealth of monuments and significant locations to look at. Think about choosing a guide before you get there, then you'll be able to brush up on all the exciting things which constitute the parts of Windhoek.

With such a great amount of choice, (bars, shops, leisure activities, restaurants and shows, etc.), you're unlikely to get bored when you're in Windhoek!

If you would like to properly take in Windhoek, there are some things which you undoubtedly must experience, particularly NamibRand Nature Reserve, ff, Christuskirche, Katutura Township and Okapuka Ranch!

Enjoy the nearby culinary wonders. You're certain to find them unforgettable.

If you love to party, do not miss the abundance of clubs and bars to be found in the heart of Windhoek. You're sure to have fun with the cheerful local residents of Windhoek!