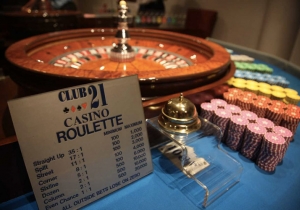 Vanuatu
Kumul Hwy, Vanuatu, 00000, Port Vila,
1mi.
Located in Vanuatu, (in the Efate State), Port-Vila is a medium town containing some 45000 inhabitants.

In Port-Vila, you will find 3 casinos: Palms Casino & Hotel Port Vila, Casino & Grand Hotel Port Vila and Club21 Casino & The Melanesian Hotel Port Vila. Along with gaming tables and slot machines, these places always coordinate poker competitions and events such as special evenings, shows, happy hours, snack foods, competitions and even surprise games.

In addition to taking exemplary care of the tables, the croupiers are additionally available to clarify the rules if you would like them to. So even if you don't know the procedures of Blackjack, Roulette or Poker, there is no need to be shy, the rules of these classic games will very soon be crystal clear!

Whether it's standard or with a display screen, there are numerous styles of different slot machine games. But the most relevant thing is not its aesthetics, it's the jackpot of course! A few cents will be sufficient to get involved, so come and try it out!

As is true for most seaside towns, in Port-Vila you're able to indulge in chilling out, the beach, water sports and ultimately, thrilling days at the casino! Going for a wander is also satisfying as you will come across many bars and shops to truly make your stay remarkable.

You will come across an awful lot of monuments and interesting places in Port-Vila. Truly get involved in your stay and have fun discovering them all!

Port-Vila is lucky to have a large number of attractions: bars, shops, entertainment and shows, etc. You really won't become bored!

Whilst you're in Port-Vila, don't forget Mele Cascades, Hideaway Island Marine Reserve, Ekasup Village, Eden on the River and Iririki Island.

Have a sample of the local cuisine, you surely won't regret it!

In Port-Vila, you'll have a splendid experience in the beautiful town centre's many clubs and bars. Partying is the tradition here, and tourists receive a warm welcome from the local residents. You'll surely adore this friendly and warm experience.