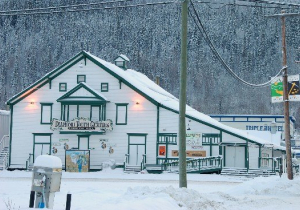 Canada
1001 Fourth Avenue Y0B 1G0 Dawson city
The Yukon (YT) is located in the extreme Northwest of Canada. It is the smallest Canadian territory after Nuvanut (NU) and the Northwest Territories (NT). It is bordered in the West by the US state of Alaska (AL). The population of Yukon is estimated at nearly 37,000. It capital and main city is Whitehorse.

The Diamond Tooth Gerties Gambling Hall of Dawson City is the only gaming establishment in activity within the territory of Yukon (YT). This casino provides 60 slot machines and gaming tables including Roulette, Blackjack, Red Dog and the Wheel of Fortune. The place offers also three Fresh Cancan shows per night. It is also open only on weekends in fall, some weekends in winter and spring, but everyday during summer.

Despite its location in the extreme Northwest of Canada and close to the big North, the territory of Yukon (YT) features exceptional landscapes and natural wonders. Filled with canyons, lakes, forests, creeks, mountains and valley, the show is amazing and never stops. Nature lovers as well as sport enthusiasts will feel like they have reach heaven. The places to not miss are the Miles Canyon, the Yukon Wildlife Preserve, the Kluane National Park and Reserve, McIntyre Creek or the Tombstone Territorial Park. As complete natural spaces, it is possible to meet wildlife everywhere around.

Wonderful lakes are also spread all around this beautiful territory. Panoramas are wonderful and breathtaking. The Emerald Lake, Kathleen Lake, Lake Laberge as well as the Yukon River and the Tatshenshini River are among the most beautiful.

Many tours are organized to bring the visitors directly into those incredible areas. Excursions in historic train replicas are the most appreciated. History buffs won't miss the visits of the S.S Klondike at Whitehorse, the Robert Service Cabin at Dawson City or the Klondike National Historic Site of Dawson City.