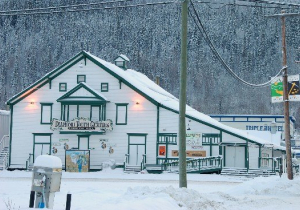 Canada
1001 Fourth Avenue Y0B 1G0 Dawson city
270mi.
The vibrant place of Whitehorse can be discovered in the Yukon Province (Canada). Containing 23000 inhabitants, it is perceived as a medium town.

There aren't any casinos in Whitehorse. But Diamond Tooth Gerties Gambling Hall Dawson City, Chances Casino Prince Rupert, Chances Casino Terrace, Chances Casino Fort St. John and Chances Casino Dawson Creek are nearby.

In a casino, you'll generally run into the prevalent conventional games: Blackjack, Poker, Roulette, etc. Don't be hesitant to ask a croupier for guidance. They can describe the basic principles to you extensively.

Whether it's standard or with a display screen, there are a number of forms of different slot machine games. But the relevant thing isn't its general look, it's the prize pot without a doubt! A few cents will be a sufficient amount to play, so come along and play!

There are an awful lot of interesting spots and monuments in Whitehorse. Get the most out of your stay and have fun discovering them!

Whitehorse is blessed to have lots of places to see: bars, shops, restaurants, shows and entertainment, etc. You surely won't become bored!

There are myriad must-see places in Whitehorse but the best known are definitely Yukon Wildlife Preserve, Miles Canyon, MacBride Museum, Emerald Lake and Yukon Visitor Information Centre.

Local gastronomic specialities are really worth savouring. Get the most out of your stay and enjoy tasting and discovering them.

In Whitehorse, you're certain to have a great experience in the striking town centre's many clubs and nightlife havens. Partying is the tradition here, and holiday-makers receive a friendly welcome from the natives. You'll certainly enjoy this warm and friendly experience.