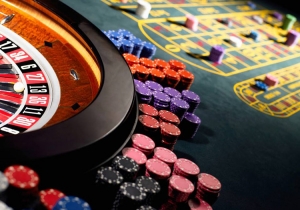 Casino Canberra
A sculpture of a half-roulette board as well as a Jack and As Cards greet you at the casino entrance located in the heart of Canberra. Welcome then to a unique gaming ven …
0 reviews
Australia
21 Binara Street, ACT 2608 Canberra
The Australian Capital Territory (ACT) is a federal district enclaved in the New South Wales state (NSW), in the Southeast of Australia. The state has only one city, which the country's capital: Canberra. The city is the main economic, politic and touristic center of the Australian Capital Territory (ACT).

The Casino Canberra is the only gaming establishment located within the Australian Capital Territory State (ACT). The casino features a sophisticated gaming space providing numerous slot machines and a dozen of tables with Blackjack, Roulette, Pai Gow, Canberra Poker, American Roulette, Rapid Roulette, Money Wheel or Mini-Baccarat. A Poker Room dedicated to Texas Hold'em is a also part of the gaming offer.

In Canberra, the Lake Burley Griffin is the centerpiece of the capital. Locals and travelers meet each other in and around the lake. Waterfront paths, picnic areas or boating, fishing and water sports are opportunities available here. Around the lake, visitors of the Australian Capital Territory (ACT) can visit the National Gallery, the National Library, Questacon or the National Museum.

The Australian War Memorial is an impressive building standing here to commemorate the war's fatalities. The Byzantine-stye monument combines the commemorative Courtyard, a museum, archives, art gallery and a captivating library. Permanent and temporary exhibits are also provided for the visitors.

As the official capital of Australia, Canberra is home of many institution buildings. Some of them are highly impressive and can be visited. The New Parliament House, the Old Parliament House or the Museum of Australian Democracy are some of them. Culture lovers will surely spend some time at the National Gallery of Australia.

The Australian National Botanic Garden are located about 1 kilometer west of Canberra. It is a 50-hectare park on the slopes of Black Mountains. Nature lovers and other visitors can relax an deejay a peaceful environment highlighted by the Rain Forest Gully, the Red Center Garden, the Children's Discovery Walk or the Black Mountain Nature Park.