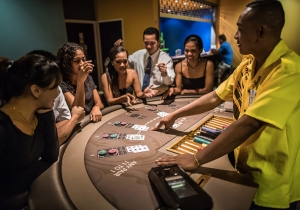 White Sands Casino Samoa
The White Sands Casino is the only and wonderful casino in Samoa. You can try your luck on over 100 slot machines in a friendly atmosphere. You will also be able to play …
0 reviews
Samoa
Entrance Road Mulifanua 00000
With 200 000 inhabitants, Samoa is a country of Oceania with Apia as capital.

No less than 1 casinos await you all over the country, such as the White Sands Casino Samoa.

In general, they will allow you to entertain on traditional slots or poker tables, Roulette, Blackjack or other fashionable games.

Be careful, the minimum age is 18, you cannot enter before that age!

Also, you need to have a valid identity card and elegant dress code.

In Samoa, you will not have time to get bored with countless attractions, ranging from culture to entertainment.