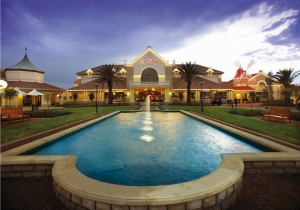 Windmill Casino Bloemfontein
The Windmill Casino Bloemfontein provides to its visitors the opportunity to play to their favorite games. The casino proposes 403 slot machines and 19 table games. Plus, …
0 reviews
South Africa
Corner Jan Pierewiet Avenue and N1 Highway Pellissier; 9332 Bloemfontein
302mi.
Found in South Africa, (in the Northern Cape Province), Upington is truly a big town which is made up of some 100000 inhabitants.

You'll only find a solitary casino in Upington: Desert Palace Casino Upington. It offers a wide selection of slot machines and betting tables. It additionally holds poker tournaments and entertainment through the year, (special nights, shows, snacks, happy hours, dinners and surprises, etc.).

In a gambling establishment, you'll usually come across the well-known established games: Roulette, Poker, Blackjack, etc. Don't stress about asking a croupier if you want assistance. They will be glad to summarise the rules to you in depth.

Whether it's with a display screen or simply standard, there are many kinds of different slot machines. But the most relevant thing isn't its design, it's the prize pot of course! A few cents will be plenty to play, so come along and have a go!

As you're probably already aware, Upington offers a rich past and various monuments and intriguing sights to discover. Think about finding a guide prior to turning up, so that you can learn about all the many thrilling things that go to constitute the parts of Upington.

Upington is fortunate to have multiple sights: bars, shops, restaurants and entertainment, etc. You surely won't be bored!

There are numerous recommended places to visit in Upington but the best known are unquestionably Parc transfrontalier de Kalagadi, Bezalel Wine & Brandy Estate, Orange River Cellars, Kalahari Safaris Day Tours and Tata Ma Tata Day Tours.

Have a sample of the local gastronomic dishes, you will definitely not regret it!

If you love to party, do not skip the wealth of bars and clubs to be found in the middle of Upington. You can enjoy yourself with the welcoming locals of Upington!