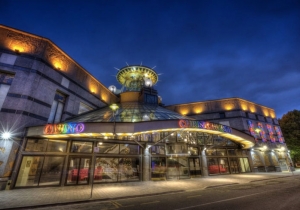 Casino Christchurch
The Christchurch Casino welcomes you and offers you 500 slot machines, 30 table games and a poker room to entertain you completely. The venue is ideally equipped to make …
0 reviews
New Zealand
30 Victoria St, Christchurch Central, Christchurch, 08140, Christchurch,
267mi.
Situated in New Zealand, (in the North Island), Palmerston North is a big town that consists of some 82000 inhabitants.

There's no casino in Palmerston North and that is a pity! But don't fret, there are some extraordinary casinos nearby, such as Skycity Casino Hamilton, Skycity Casino & Hotel Auckland, Casino Christchurch, Casino Dunedin and Skycity Casino Queenstown.

In a casino, you'll generally find the popular conventional games: Roulette, Poker, Blackjack, etc. Don't be hesitant to consult a croupier for guidance. They will describe the basic procedures to you at length.

Whether it's standard or with an LCD screen, there are all types of separate slot machines. But the important thing isn't what type it is, it's the prize pot without a doubt! A few cents will be an adequate amount to participate, so come along and have a go!

Restaurants, shops, bars: in Palmerston North, you have so many options! You'll stumble on so many places to enjoy a wonderful time. Wanders on the waterfront, enjoying life at the casino and a selection of water sports are all possible...

Make the most of your visit in Palmerston North and discover its architectural heritage. You'll realise, the town's history is very amazing!

Palmerston North is privileged to have a large number of sights: bars, shops, restaurants and entertainment, etc. Don't fret, you won't get bored!

You'll notice countless recommended places to discover in Palmerston North but probably the most popular are definitely Victoria Esplanade Gardens, Te Manawa, New Zealand Rugby Museum, Palmerston North i-SITE Visitor Information Centre and Robertson Holden International Speedway.

Experience the local cuisine, you won't regret it!

If you enjoy partying, make sure you don't miss the abundance of bars and clubs to be discovered in the heart of Palmerston North. You can have fun with the welcoming locals of Palmerston North!