Barbados
Worthing Main Road 00000 Christ Church
3mi.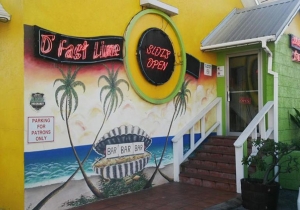 D' Fast Lime Casino Bridgetown
Bahamas D 'Fast Lime Casino is located in Christ Church Barbados, a top tourist attraction of the Lesser Antilles. Its gambling area includes slot machines combined with …
0 reviews
Barbados
Hastings Main Road 00000 Christ Church
4mi.
Treasure Bay Casino Santa Lucia
Take part in exciting activities and satisfy your gaming passion at the Treasure Bay Casino in the Baywalk Shopping Mall. The property is conveniently located in Rodney B …
0 reviews
Santa Lucia
Castries-Gros Islet Hwy 00000 Gros Islet
117mi.
France
24 Rue des Bougainvilliers 97229 Les Trois-Ilets
144mi.
France
Rue des Alizés 97233 Schoelcher
149mi.
Trinidad and Tobago
Fiesta Plaza Movietowne, Invaders Bay, Audrey Jeffers Highway 00000, Port of Spain
214mi.
Chaguanas Princess Casino
The Chaguanas Princess Casino is located in Chaguanas, Trinidad and Tobago. You will find nearly 7 000 square feet dedicated to gambling. You will have access to gaming t …
0 reviews
Trinidad and Tobago
Endavour Road, Price Plaza 00000 Chaguanas
215mi.
France
Lieu-dit Sainte-Marthe 97118 Saint François
249mi.
Casino Cogit du Gosier Guadeloupe
The Cogit group's Gosier-les-Bains casino in Guadeloupe welcomes you to the center of the Pointe de la Verdure hotel zone. In terms of games, it offers nearly 174 slot ma …
0 reviews
France
43 Pointe de la Verdure 97190 Le Gosier
253mi.
Oistins can be found in the Christ Church Region (New Zealand). It is small town, containing a population 1000 occupants.

There is not a casino in Oistins and that is unlucky! But there's no need to worry, there are a number of fantastic surrounding gambling venues, like Lucky Horseshoe Saloon & Casino Bridgetown, D' Fast Lime Casino Bridgetown and Treasure Bay Casino Santa Lucia.

In a casino, you'll generally run into the notable traditional games: Poker, Blackjack, Roulette, etc. Don't be afraid to approach a croupier for pointers. They can summarise the rules to you at length.

Whether it's ordinary or with a display screen, there are all types of different slot machines. But the important thing isn't its aesthetics, it's without any doubt the prize! A few cents will be good enough to play, so come and try it out!

What's terrific in a seaside place such as Oistins, is the fact that you can go and experience an amazing time at the casino, experiment with water sports and truly chill out. Not to mention the choice of taking a stroll down the streets lined with an array of shops and stopping off for a drink in the restaurants and bars.

There are a wealth of monuments and intriguing places in Oistins. Truly enjoy your stay and have a superb time visiting them!

With so many wonderful options, (bars, shops, restaurants, leisure activities and shows, etc.), you won't become bored during your stay in Oistins!

When you stop by places in Oistins, do not overlook Bodie's School of Surf, Ride The Tide Surf School, Enterprise (Miami) Beach, Oistin's Friday Night Fish Fry and Seahorse Divers Barbados.

Local gastronomic treats are truly worth a sample. Get the most out of your visit and enjoy tasting and discovering them.

Boasting a festive and warm setting, Oistins is ideal for an incredible evening out. What's more, you'll certainly have an incredible time in the town centre's bars and clubs deep into the night…