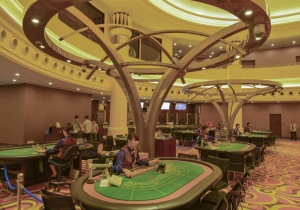 Vietnam
028 Yet Kieu St, Kim Tan ward 00000 Lao Cai
171mi.
The striking haven of Nanyang can be discovered in the Henan Province (China). Composed of 10,7 million inhabitants, it is deemed a big town.

Unfortunately, there are zero casinos in Nanyang. There are, fortunately, venues nearby such as Aristo International Club Casino & Hotel, Royal International Casino & Hotel Halong, Kings Romans Casino Bokeo, Allure Resort & Casino Tachileik, and Dansavanh Nam Ngum Casino Vientiane.

In addition to taking care of the tables, the croupiers are there to help you learn the procedures if you'd like them to do that. So if you find that you don't fully grasp the procedures of Poker, Roulette or Blackjack, don't be hesitant, the principles of these classic games will quickly be extremely clear!

Whether it's ordinary or boasting a display screen, there are myriad kinds of assorted slot games. But the important thing isn't what it looks like, it's the jackpot of course! A few cents will be sufficient to participate, so come and visit and have a go!

As you perhaps already know, Nanyang has a deep past and plenty of monuments and intriguing spots to check out. Consider choosing a guide prior to showing up, so you'll be able to brush up on all the many exciting things that constitute the parts of Nanyang.

Nanyang is truly a paradise for holidaymakers! Of course, along with its bars and restaurants, Nanyang has so much to keep you occupied with all the shows and activities on offer to you.

To truly experience Nanyang, don't miss Wuhou temple, Ancient Government Office of Nanyang, Zhongjing Museum of Medical History Document, Painting Museum of Han Dynasty and Shan Park as they're absolute must-sees!

Enjoy the local gastronomic delights, you will definitely not regret it!

If you love to celebrate, make certain you don't miss the decent quantity of nightlife spots and bars you'll come across in the centre of Nanyang. You're bound to enjoy yourself with the welcoming local residents of Nanyang!