Olimpia Casino Lubango
Give yourself the pleasure of casino games in the Casino Olimpia Lumbago, the establishment also features a sports bar. The casino has a huge gaming space with a good qua …
0 reviews
Angola
76 Prace Joao Paulo II, Centre Comerical Millennium, 00000, Lubango
887yd.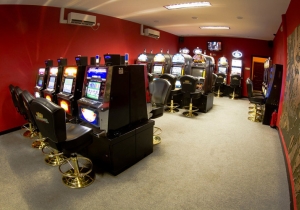 Angola
Rua Camâra Leme, Provincía do Huíla 58 Lubango
2mi.
Lubango is based in the Huíla Province (Angola). It is big town, with a populace 256000 residents.

In Lubango, you will find 2 casinos: Olimpia Casino Lubango and Imperador Bingo Benfica Casino Lubango. Together with gaming tables and slot games, these places regularly prepare poker tournaments and events such as concerts, special evenings, snack foods, happy hours, competitions, dinners and even surprise games.

As well as attending to the gaming tables, the croupiers are there to assist in making the principles clear if you would like them to do so. So even when you don't recognise the procedures of Blackjack, Roulette or Poker, don't be shy, the techniques and principles of these historical games will very soon be clear!

When bringing up casinos, we suddenly think about slot machines. They've long been the star of casinos and it's pretty clear why. The minimum bet is simply a few cents but the prize can be significant.

The town of Lubango has countless cultural and historic sites. This is an optimal opportunity to discover the rich culture and history it holds.

One thing is beyond doubt, there is no way of getting fed up in Lubango with the phenomenal entertainment that is routinely organised, relaxation activities to try and also the bars and shops dotted about town.

Whilst you are in Lubango, don't miss Tundavala, Serra da Leba, Christ the King Statue, Cristo Rei Lubango and Guida Coquenão A Criança e a Cor.

Have a taste of the local dishes, you surely won't regret it!

In Lubango, you'll have an excellent time in the striking town centre's many bars, clubs and nightlife havens. To celebrate is a tradition here, and vacationers get a pleasant welcome from the natives. You'll without a doubt adore this warm and friendly experience.