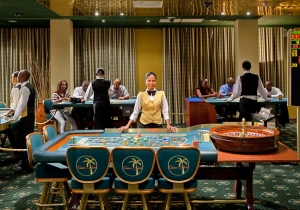 Casino Kigali & Lemigo Hotel
Located on one of the most beautiful capital city's boulevards, in Kacyiru business district, Lemigo hotel is one of the best resorts in the city. Enthusiasts for big thr …
0 reviews
Rwanda
Lemigo Hotel, Kimirura, KG 624 St 00000 Kigali
282mi.
With 356000 inhabitants after the last census, Kalemie is a big town. It is found in the Tanganyika Province (Democratic Republic of Congo).

There's no casino in Kalemie which is unlucky! But do not worry, there are a number of magnificent gambling venues nearby, like Casino Kigali & Lemigo Hotel, King'S Casino Mwanza, Salut Casino Lubumbashi, Kampala Casino and Mayfair Casino & Club Kampala.

In most casinos, you'll have no difficulty finding traditional gambling tables like Roulette, Blackjack, Poker and often a great range of others. If you are uncomfortable getting started by yourself, you can always approach a croupier for support. They'll be happy to show you the basics.

You only need a few cents to enjoy a slot machine game and gain the fantastic chance to win the jackpot. On top of the traditional rollers, you will also come across more contemporary machines like video poker and rollers.

Make the very most of your visit in Kalemie and experience its architectural mastery. You'll discover, the town's past is genuinely fascinating!

With so much choice, (bars, shops, leisure activities and restaurants, etc.), you won't be getting bored whilst you're in Kalemie!

There are many must-see places in Kalemie but probably the best known are unquestionably Saint-Albert Cathedral, Hill Place of State, Baraka, Tanganyika Lake and Kabalo.

Sample the native culinary pleasures. You're sure to find them difficult to forget.

If you like meeting people, you're certain to love the clubs and nightlife havens in the heart of Kalemie! The locals enjoy the opportunity to celebrate and they love to greet tourists and reveal to them regional traditions.