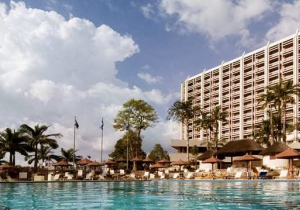 Nigeria
1 Aguiyi Ironsi Street, Maitama, 900001, Abuja,
205mi.
The brilliant town of Ilorin is located in the Kwara State (Nigeria). With 848000 inhabitants, it is classed as a big town.

There isn't a casino in Ilorin. But The Federal Palace Casino & Hotel Lagos, Jacaranda Casino Abuja, Hilton Transcorp Hotel & Casino Abuja, Benin Marina Casino & Hotel Cotonou and Golden Dragon Casino Tema are relatively close.

In most casinos, you'll have no trouble finding standard gambling tables including Poker, Blackjack, Roulette and often many others. If you are uncomfortable starting out solo, you can always ask a croupier for advice. They'll be pleased to inform you about the basics.

Whether it's boasting an LCD screen or just ordinary, there are all kinds of assorted slot machine games. But the significant thing isn't what it looks like, it's the prize pot of course! A few cents will be a sufficient amount to play, so come and try your luck!

The location of Ilorin has countless cultural and historical sites. This is an ideal chance to discover the abundant culture and history it has to offer.

One thing is for sure, there is no way of getting fed up in Ilorin with the fantastic entertainment that is regularly planned, relaxation activities you could try and also the restaurants, bars and shops strewn all over the town.

While you are in Ilorin, do not overlook Alfa Yahaya Mosque, Winners Chapel Ilorin, Oko Erin mosque, Youth Camp Ilorin and Viva Cinemas.

Experience the local gastronomic delicacies, you won't regret it!

In Ilorin, you'll have a fantastic experience in the gorgeous town's many clubs and bars. Partying is the norm here, and guests enjoy a warm greeting from the local people. You'll certainly adore this friendly and warm experience.