South Korea
186, Yeongjonghaeannam-ro 321-gil Jung-gu Incheon
833mi.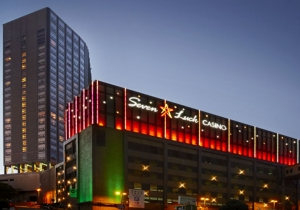 South Korea
Annex Building,395,5-ga, Namdaemun-ro Jung-gu, 00000, Seoul,
849mi.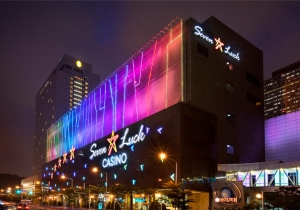 7 Luck Casino Gangnam COEX Seoul
Located in the heart of Gangnam Seoul, in the Gangnam COEX Convention Annex Building is the Seven Luck Casino. The casino is about 65,000 square feet; it owns 71 gaming t …
0 reviews
South Korea
58 Teheranno-87, Samseong-dong, 135, Gangnam-gu, Seoul
854mi.
South Korea
21 Gwangjang-dong san, Gwangjin-gu 00000 Seoul
856mi.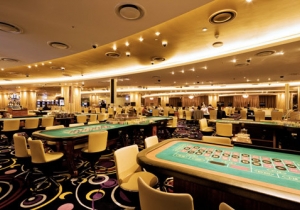 7 Luck Casino Busan Lotte
7 Luck Casino welcomes you all year round 24/7. You will find over 90 slot machines as well as traditional games such as Baccarat, Blackjack, Roulette, Tai Sai (Dice), Ca …
0 reviews
South Korea
530-15, Bujeondong, BusanjinGu, 00000, Busan Lotte,
857mi.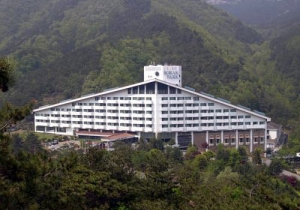 Sorak Park Casino & Hotel Sokcho
The Sorak Park Casino & Hotel Sokcho welcomes you in South Korea. Facing the Sorak Mountains, the venue offers you a breathtaking view from its hotel featuring 121 rooms …
0 reviews
South Korea
74-3, Sorak-dong 00000 Sokcho-si, Gangwon-do
915mi.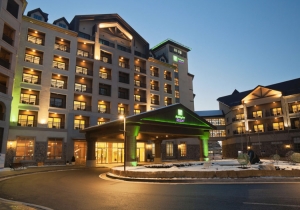 South Korea
325 Solbong-ro, Pyengchang-gun, Gangwon-do, 00000, Daegwallyeong-myeon
935mi.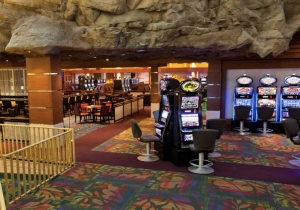 Club Regent Casino Winnipeg
The Club Regent Casino is situated in the East of Winnipeg, Manitoba, Canada. This establishment offers more than 900 slots including penny machines, ticket in and ticket …
0 reviews
Canada
1425 Regent Ave W R2C 3B2 Winnipeg
944mi.
Positioned in China, (in the Inner Mongolia Province), Hohhot is a big town which contains a total figure of 2,87 million inhabitants.

Hohhot does not have a casino but there is no reason to worry. Thankfully, Surrey Playtime Gaming Casino Langley, Paradise Casino Incheon, 7 Luck Casino & Millenium Hilton Gangbuk Seoul, 7 Luck Casino Gangnam Coex Seoul and Paradise Casino & W Walkerhill Seoul are rather close by.

As well as taking exemplary care of the games, the croupiers are there to make the procedures clear if you would like them to do so. So even if you do not recognise the procedures of Poker, Blackjack or Roulette, there's no need to be shy, the ways and principles of these classic games will quickly be clear!

You only need a couple of cents to use the slots and have the opportunity to win the prize pot. As well as the classic rollers, you will also see more contemporary machines such as video poker and rollers.

As you probably know, Hohhot boasts a strong history and a wealth of monuments and exciting spots to uncover. Give some thought to finding a guide before you arrive there, then you can be informed about all the interesting things which constitute the parts of Hohhot.

Hohhot is a true haven for tourists! Of course, in addition to its bars and shops, Hohhot has lots to keep you engaged with all the entertainment and shows available to you.

You might notice a variety of essential places to visit in Hohhot but probably the most renowned are certainly Inner Mongolia Museum, Dazhao Temple, Hohhot Five-Pagoda Temple (Wuta Si), Hohhot Mosque (Great Mosque) and Zhaojun Tomb.

Like in pretty much all regions around the globe, you'll get the awesome chance to sample some traditional regional dishes and believe us, you'll really appreciate them!

If you'd like to meet new people, you're likely to truly appreciate the nightlife havens and bars in the middle of Hohhot! The local residents enjoy the opportunity to party and they love to greet tourists and show them the local traditions.