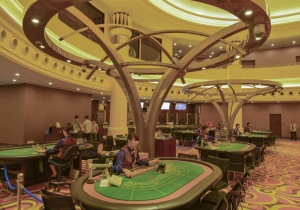 Vietnam
028 Yet Kieu St, Kim Tan ward 00000 Lao Cai
181mi.
The town of Haikou can be found in the Hainan Province (China). Holding 2,049 million inhabitants, it is thought of as a Big town.

Haikou does not actually possess its very own casino but that's nothing to fret about. Thankfully, Aristo International Club Casino & Hotel, Kings Romans Casino Bokeo, Allure Resort & Casino Tachileik, Royal International Casino & Hotel Halong and Dansavanh Nam Ngum Casino Vientiane are not far.

In most casinos, you'll easily find classic gaming tables including Blackjack, Roulette, Poker and often many others. If you are not completely comfortable starting out all by yourself, you can approach a croupier for information. They'll be happy to teach you the basics.

Whether it's with a display screen or just classic, there are a number of kinds of separate slot games. But the most significant thing isn't its looks, it's of course the jackpot! A few cents will be plenty to participate, so come and try it out!

When you are in Haikou, don't forget Qilou Old Street, Wanlv Park, Hainan Tropical Wildlife Park and Botanical Garden, Jiari Beach and Huoshankou National Geopark.