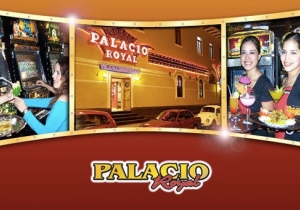 Palacio Royal Casino Piura
The Palacio Royal Piura Casino is located inside the Hotel Los Portales, in Piura. The 3-star resort features 87 air-conditioned rooms, a swimming pool and a restaurant. …
0 reviews
Peru
Av. Ayacucho 246 73 Piura
212mi.
Found in Equador, (in the Guyaias Province), Guayaquil is a big town containing some 2,3 million inhabitants.

There are zero casinos in Guayaquil. But Palacio Royal Casino Piura, Palacio Royal Casino Chiclayo, Palacio Royal Casino Trujillo, Cosmopolitan Casino Cali and Havana Casino Unicentro Cali are nearby.

In addition to managing the tables, the croupiers are always there to help you learn the procedures if you would like them to. So when you do not know the rules of Blackjack, Roulette or Poker, don't be shy, the concepts of these classic games will quickly be extremely clear!

When dreaming about casinos, we immediately see slot machines. They've long been the star of casinos and it's obvious why. The minimum bet is only a few cents but the prize pot can be significant.

There are an awful lot of monuments and intriguing places in Guayaquil. Make the most of your stay and have a fantastic time exploring them!

Guayaquil is fortunate enough to have a great number of places of interest: bars, shops, restaurants and entertainment, etc. Don't be concerned, you won't become bored!

There are a wide variety of must-see places in Guayaquil but the most popular are undeniably Penas, Parque Historico Guayaquil, Malecon 2000, Parque Historico and Cerro Santa Ana.

Delight in the regional culinary specialities. You'll find them difficult to forget.

If you like to meet new people, you are going to adore the bars, nightlife havens and clubs in the centre of Guayaquil! The local people like to party and they love to welcome tourists and reveal to them local traditions.