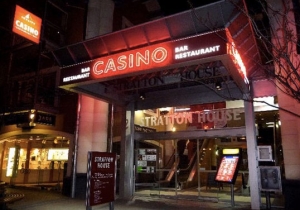 Skycity Wharf Casino Queenstown
Recently bought by Skycity Queenstown Casino, this gaming house is quite small but you will love its welcoming and friendly atmosphere and professional staff. In the hear …
0 reviews
New Zealand
88 Beach Street, Steamers Wharf Queenstown, 9300, Queenstown,
106mi.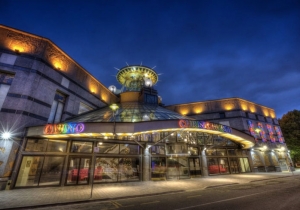 Casino Christchurch
The Christchurch Casino welcomes you and offers you 500 slot machines, 30 table games and a poker room to entertain you completely. The venue is ideally equipped to make …
0 reviews
New Zealand
30 Victoria St, Christchurch Central, Christchurch, 08140, Christchurch,
193mi.
Dunedin is positioned in the Otago Region (New Zealand). It's big town, containing a populace 128000 residents.

The well-established casino Casino Dunedin in Dunedin not surprisingly offers many kinds of gambling tables plus loads of slot games. But were you aware that live shows, surprise games or snack foods are hosted throughout the year?

Combined with managing the gambling tables, the croupiers are also there to clarify the rules if you'd like them to. So if you find you don't recognise the rules of Poker, Blackjack or Roulette, you shouldn't be hesitant, the rules of these traditional games will quickly become clear!

Whether it's boasting a display screen or just classic, there are several sorts of assorted slot games. But the most important thing isn't what it looks like, it's most definitely the prize pot! A couple of cents will be an adequate amount to play, so come by and play!

What's great about a seaside resort like Dunedin, is that you can have a stimulating time at the casinos, experiment with water sports and truly chill out. Not to mention the choice of taking a walk through the local roads lined with an array of shops and perhaps stopping off for some refreshments in the restaurants and bars.

There are a wealth of fascinating places and monuments in Dunedin. Make the most of your stay and have a fantastic time discovering them!

With so many wonderful options, (bars, shops, restaurants, leisure activities and shows, etc.), you won't become bored whilst you're in Dunedin!

So, to truly get the very most out of Dunedin, make sure you don't forget Toitu Otago Settlers Museum, Otago Peninsula, Olveston, Dunedin Railway Station and Tunnel Beach Track because they are real must-sees!

Experience the local food, you surely won't regret it!

If you enjoy a good party, don't neglect the abundance of clubs and nightlife spots to be discovered in the centre of Dunedin. You're bound to have fun with the cheerful locals of Dunedin!