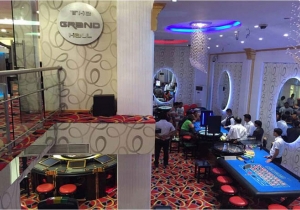 Grand 7 Casino & Hotel Goa
The Grand7 Casino & Hotel of Goa is ideally located on the idyllic shores of the Arabian Sea, in the country's West coasts. Nestled on Candolim Beach at the luxurious O'R …
3 reviews
India
O'hotel, Bardez, Candolim 403515
344mi.
India
Porvorim, 403521 Bardez, Near Azad Bhavan, Goa
344mi.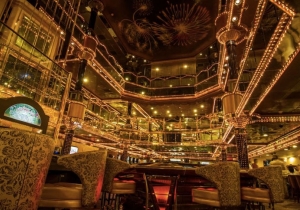 India
Captain of Ports Jetty, -, Panaji,
345mi.
Pride Casino Goa
Casino Pride is one of the floating casino located on the River Mandovi near Panjim in the southwest state of Goa. This unique gaming venue has two floors and invites you …
0 reviews
India
Casino in Goa, River Mandovi, Captain Of Ports Jetty, Dayanand Bandodkar Marg, 403001, Panjim,
345mi.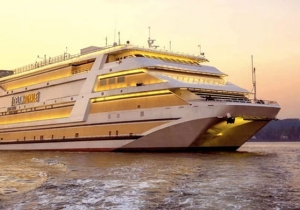 Deltin Royale Casino Goa
Deltin Royale Casino possesses different gaming rooms all very stylish, luxurious and classy. This largest casino in India has three different levels that spread over 30, …
0 reviews
India
Fisheries Jetty, Fisheries Dept. Building, D. Bandodkar Road, 403001, Panjim Goa
345mi.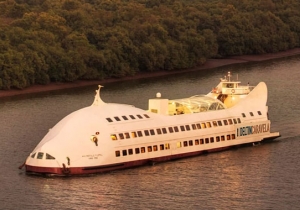 Deltin Caravela Casino Goa & Hotel
Deltin Caravela Casino offers an unique gaming experience! This world class resort on the Mandovi River. This luxury hotel welcomes you with 17 gaming tables including di …
0 reviews
India
Fisheries Jetty, Fisheries Dept. Building, D. Bandodkar Road, - Panjim
345mi.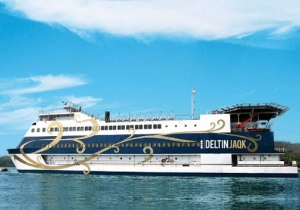 Deltin Jaqk Casino Goa
The Deltin Jaqk casino offers an unusual gaming experience! This offshore casino is one of the first casinos in India, it has more than 350 gaming facilities including: S …
0 reviews
India
Fisheries Dept. Building, Dayanand Bandodkar Road, Fisheries Jetty - Panjim
345mi.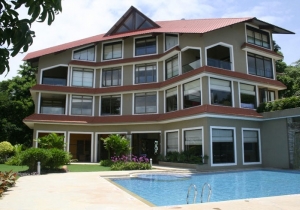 Crown Casino & Hotel Goa
In the city of Panjim in the southwest state of Goa is the crown casino. Located on the first floor of the Crown Hotel, this gaming house greets you in a luxurious and so …
0 reviews
India
Bairo Alto Dos Pilotos, Jose Falcao Road, 403001, Panjim,
345mi.
Based in India, (in the Gujarat State), Daman is a medium town that has a total of 36000 inhabitants.

There isn't a casino in Daman which is a pity! But do not be concerned, there are some outstanding surrounding casinos, particularly Winn De Goa Casino, Palms Casino & La Calypso Hotels Goa, Grand 7 Casino & Hotel Goa, Paradise Casino & Hotel Neo Majestic Goa and Pride 2 Casino Goa.

Together with attending to the gaming tables, the croupiers are there to help you to learn about the rules if you'd like them to do that. So if you do not know the procedures of Poker, Blackjack or Roulette, you shouldn't be shy, the rules of these traditional games will very soon be clear!

Whether it's standard or with an LCD screen, there are numerous sorts of different slot machines. But the most important thing isn't what kind it is, it's of course the prize! A few cents will be good enough to get involved, so come and visit and have a go!

What's wonderful in a seaside location like Daman, is the simple fact that you can have an exciting time at the local casinos, test out water sports and completely wind down. That's not to mention strolling down the streets packed with a range of stores and stopping for some refreshments in the restaurants and bars.

Get the most out of your stay in Daman and see its architecture. You'll realise, the history of this town is really exciting!

Daman is lucky to have quite a few attractions: bars, shops, restaurants and shows, etc. You really won't be bored!

If you'd like to fully experience all of Daman, there are some things that you definitely must try, chiefly Cathedral of Bom Jesu, Nani Daman, Somnath Mahadev Temple, Governer's Palace and St Jerome Fort!

Regional gastronomic dishes are truly worth tasting. Get the most out of your trip and enjoy sampling and discovering them.

If you love to party, make sure you do not skip the large quantity of nightlife spots and clubs you'll find in the centre of Daman. You can enjoy yourself with the friendly locals of Daman!