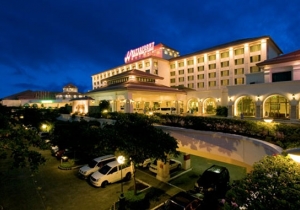 Waterfront Casino & Hotel Mactan
Located across Mactan Cebu international airport in Lapu-Lapu city, Philipines, the Waterfront Casino & Hotel Mactan hosts the Filipino Casino Mactan in it's lobby level. …
0 reviews
Philippines
Airport Road, Mactan, Lapu-Lapu City, Cebu, 6015, Lapu-Lapu,
5mi.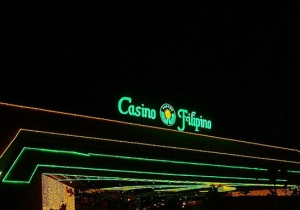 Filipino Casino Bacolod
Casino Filipino in Bacolod welcomes you in its venue in the Philipines. It has about 260 slot machines and 23 gaming tables on which you can practice Pai Gow Poker, Ponto …
0 reviews
Philippines
Hotel Goldenfield Commercial Complex, Singcang, 00000, Bacolod,
68mi.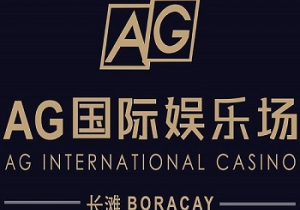 AG INTERNATIONAL CASINO BORACAY
AG International Casino Boracay is the only casino in Boracay, Philippines. You will find it in the Crown Regency Resort. The establishment is a ten minute walk from the …
0 reviews
Philippines
Station 2 Main Road Balabag 5608 Boracay
175mi.
Filipino Casino Davao
Davao Casino Filipino is situated in the Grand Regal Hotel, close to the Mindanao Taoist Temple and the Victoria Plaza. The Casino has about 206 slot machines and 17 gami …
0 reviews
Philippines
Davao Grand Regal Hotel Lanang, 00000, Davao,
252mi.
Apoview Casino & Hotel Davao
The Apo View Hotel & Casino welcomes you every day of the week, all day long. Situated in the heart of Davao City's central business district, you will find everything yo …
0 reviews
Philippines
J Camus Ext., Poblacion District, Davao del Sur 8000, Davao,
252mi.
Cebu City can be found in the Central Visayas district (Philippines). It's big town, with a populace 866200 residents.

In Cebu city, there are 3 casinos: Vip Club Casino & Rajah Park Hotel Cebu, Filipino Casino & Waterfront Hotel Cebu and Waterfront Casino & Hotel Mactan. Together with slot machine games and gaming tables, these places always coordinate poker tournaments and activities such as shows, special evenings, snacks, happy hours, competitions and dinners.

In addition to tending to the tables, the croupiers are there to make the procedures clear if you'd like them to do so. So when you do not know the rules of Poker, Blackjack or Roulette, no need to be concerned, the principles of these classic games will soon enough be crystal clear!

When talking about casinos, we immediately see slot machine games. They've long been the star of casinos and it's pretty obvious why. The minimum bet is simply a couple of cents but the jackpot can be gigantic.

What's truly splendid about a seaside location such as Cebu city, is the simple fact that you can go and experience a gripping time at the casino, have a go at water sports and completely relax. Not to mention the option of walking down the roads lined with a number of shops and stopping for a drink in the bars and restaurants.

The location of Cebu city has a variety of cultural and historical points of interest. This is an ideal opportunity to discover the rich culture and history it contains.

With so many options, (bars, shops, shows, leisure activities and restaurants, etc.), you're not likely to become bored during your visit in Cebu City!

If you would like to fully see Cebu city, there are things which you absolutely must try, particularly Basilica of Enfant Saint, Ayala Center Cebu, Taoist Temple and Tops Lookout!

Regional culinary delicacies are genuinely worth a taste. Make the best of your stay and enjoy tasting and discovering them.

If you love to celebrate, don't miss the wealth of clubs and bars to be found in the heart of Cebu city. You can have fun with the pleasant locals of Cebu city!