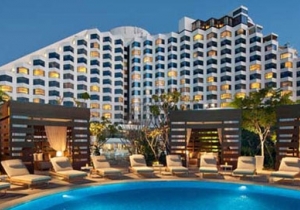 Crown Casino Perth
Crown Perth Casino invites you to discover its luxurious, classy and spacious gold gaming floor where you will find all the services of a great gaming house. You will lov …
1 reviews
Australia
Great Eastern Hwy, Burswood WA 6100 Perth
961yd.
Found in Australia, (in the Western Australia State), Burswood is a small town which consists of a populace of 2000 inhabitants.

You'll only find one casino in Burswood: Crown Casino Perth. It supplies a large range of gambling tables and slot machines. It additionally holds entertainment events and poker tournaments throughout the year, (shows, special nights, snack foods, happy hours, dinners and surprises, etc.).

In most casinos, you'll have no trouble finding classic tables such as Poker, Blackjack, Roulette and often many others, for that matter. If you are uncomfortable getting started all by yourself, you can ask a croupier for guidance. They'll be glad to inform you about the basics.

Slot machines, video poker and traditional rollers will give you an opportunity to secure big gains. From the present generation to much more conventional games, there's something for everybody no matter how much you're able to play with. In fact, the minimum bets are commonly merely a couple of cents. That's probably why slot machines have long remained the stars of the casino!

You'll come across a wealth of monuments and interesting locations in Burswood. Get the best out of your visit and have a remarkable time discovering them all!

With so much choice, (bars, shops, restaurants and shows, etc.), you're unlikely to get bored when you're in Burswood!

Whilst you are in Burswood, ensure that you don't overlook Crown Perth, Burswood Park, Movies by Burswood, Belmont Park Racecourse and Splash City Perth.

As is accurate in almost all regions throughout the planet, you'll get the opportunity to taste customary regional food and believe us, you'll find them unforgettably good!

If you love to celebrate, make sure you don't miss the wealth of nightlife havens and clubs to be discovered in the centre of Burswood. You can enjoy yourself with the cheerful local residents of Burswood!