Fitzy's Casino Waterford
Located in the heart of the lovely town of Waterford and next to the Logan River is the gaming house. In a colourful and festive environment you can try your luck on abou …
0 reviews
Australia
24-34 Albert Street, Queensland 4133 Waterford
17mi.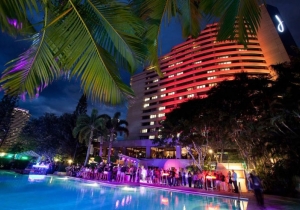 Jupiters Gold Coast Casino & Hotel
About 50 kilometers south of Brisbane on the Broadbeach Island is situated the impressive and large Jupiters Gold Coast Casino & Hotel. Shining and luminous at night it i …
1 reviews
Australia
Broadbeach Island 4218 Gold Coast
46mi.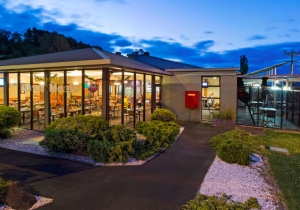 Australia
407 West Tamar Highway, Tasmania 7250 Riverside
96mi.
Brisbane is the capital of the Australian State of Queensland. Is also the third most populous city in the country after Sydney and Melbourne. Lively and dynamic, Brisbane attracts a high number of workers as well as students. From nature to urban life, the attractions are endless in Brisbane. Recommended destination, everything is made to satisfy the needs of every kind of tourist.

The Treasury Casino & Hotel Meridien of Brisbane is the only gaming establishment presents in the city. The gaming offer is quite attractive with a fair amount of 1,300 slot machines and not less than 80 gaming tables. Many jackpots could be won thanks to Texas Hold'em Poker, Mini-Baccarat, Sic Bo, Craps and more. Several restaurants will help the players to stay in shape during the time they are here.

Brisbane is home of the Lone Pine Koala Sanctuary, the largest sanctuary in the word for koalas. Families can live some memorable experiences meeting koalas but also kangaroos, wallabies, wombats, dingoes, snakes or crocodiles. Any demonstration involving animals are also showed for al the visitor's pleasures.

As its name sounds, the Cultural Center is a place made for culture lovers. Located in the heart of Brisbane, the area features the Queensland Art Gallery, the State Library of Queensland, the Gallery of Modern Art, the Queensland Performing Art Centre and the Queensland Theatre Company.

One of the most lively place in Brisbane is surely South Bank. Former site of the World Expo in 1988, it is today an entertainment place featuring a huge wheel, restaurants, plazas, promenades and parklands. During hot days, locals and visitors dive in the beautiful lagoon.

In order to live an uncommon visit, people should use the CityCat. Those are ferries running through the monuments and most beautiful buildings of Brisbane. Great picture could be taken from the boat. The ferries go to the University of Queensland to the North Shore.

Shopping lovers won't miss a chance to discover the Queen Street Mall, a shopping area that provides not less than 700 retailers of local and international brands. The place is an attraction itself thanks to its historic arcades contrasting with the modernity of boutiques. Every Wednesday, the Queen Street Mall welcomes a huge Famers Market.

Visitors who love nature and day-trip must visit the beautiful Moreton island, just located 58 kilometers from Brisbane. The best way to reach it is by Ferry. Moreton Island is the third largest sand island. Looking like a small tropical paradise, they island is a natural wonder.