Red Shores at Summerside
The Red Shores Racing & Casino is located in the city of Summerside. The casino features over 40 slot machines including games as Game of Thrones, Candy Bars, Spirit or A …
0 reviews
Canada
55 Greenwood Drive C1N 6E4 Summerside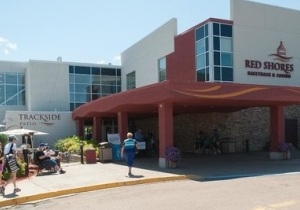 Canada
58 Kensington Road C1A 9S8 Charlottetown
The Canadian Province of Prince Edward Island is the smallest Province of Canada. Its total area is 2,190 sq. mi. and its population is estimated around 140,000. The Prince Edward Island (PEI) province is part of the Three Maritime Provinces with New Brunswick (NB) and Nova Scotia (NS). The official capital is most populous city is Charlottetown.

There are two gaming establishments located within the territory of the Prince Edward Island (PEI)

The Red Shores Casino & Racetrack of Charlottetown suggest in addition to horse betting, a casino featuring 200 slot machines and 5 tables of poker Texas Hold'em and Omaha Poker as well as tables of Blackjack. Two restaurants complete the casino's offer.

The Red Shores Racing & Casino of Summerside provides 40 slot machines featuring attractive games such as Game of Thrones, Candy Bars, Spirit or American Original. The fans of gaming tables will appreciate the several tables of Blackjack put at disposal. The casino offers also two dinning options.

Capital city of the Prince Edward Island (PEI) Province, Charlottetown is a lovely city featuring many activities that go from sightseeing, museums, parks as well as beaches. The city is named after the consort queen of Great Britain, Charlotte de Mecklenburg-Strelitz. Therefore, we understand that the architecture of the city's downtown is widely influenced by the Victorian style. At the Charlottetown Farmers Market, visitors have the possibility to meet local producers and taste their products grown on the land or fish in the ocean. Many cruises allow the tourists to discover the superb coasts of the Province. Some of them can bring to other Provinces such as New Brunswick (NB) or Nova Scotia (NS).

Ideally located on the shores of the Atlantic Ocean, the Province boasts also numerous naturals spaces and beaches. The Prince Edward Island National Park, Victoria Park, Cavendish Beach and Brackley Beach feature beautiful maritime atmospheres that are ideal for walks or relaxation.

History and culture buffs will schedule some visit in several monuments or remarkable sites. For example, the St Dunstan's Basilica is a beautiful religious building that have succeeded to several wooden Basilicas built in 1816, 1843 and 1896. The current basilica dates back to in 1919. The interior is as magnificent as the facade and provides sumptuous stained-glass windows. The other interesting historic places to visit are the Green Gables of Cavendish, the Beaconfield Historic House of Charlottetown or the Lucy Maud Montgomery Birthplace of New London.

The Province of Prince Edward Island (PEI) has the particularity to possess many beautiful lighthouses. Some of them are historic and worth visiting for its views. The most popular are the West point lighthouse, the Point Prim Lighthouse of Belfast, the East Point Lighthouse of Elmira or the Souris Lighthouse.