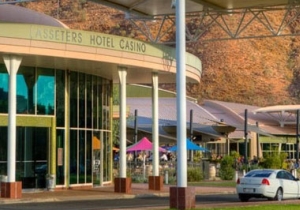 Australia
93 Barrett Dr, NT 0870 Alice Springs
Skycity Casino & Hotel Darwin
Welcome to Skycity Darwin Casino. Over 750 exciting electronic gaming machines come along new and latest jackpot games. 26 traditional table games wait for you on the mai …
0 reviews
Australia
3 Gilruth Avenue, The Gardens 00000 Darwin
The Northern Territory (NT) is an Australian state located in the central northern regions of the country. The waters of the Timor Sea, Arafura Sea and the Gulf of Carpentaria bath its northern coasts. The capital city of the state is Darwin an dated population is estimated at nearly 245,000. Thanks to its several National parks, the economy of the state is based on tourism.

In the Northern Territory state (NT), there are two main gaming establishments: the Lasseters Casino & Hotel Alice Springs and the Skycity Casino & Hotel Darwin. They both suggest an attractive offer composed by hundreds modern slot machines and electronic terminals as well as many gaming tables including classics such as Blackjack, Roulette, Baccarat, Three Card Poker, Caribbean Stud, Craps or Pontoon. Advanced players and beginners can send a very pleasant time.

Darwin is the state's capital and attracts not less than 500,000 visitors a year. The top attractions of the city are the Mindil Beach Market, the Museum and Art Gallery of the Northern Territory, the open-air Deckchair Cinema or the Darwin Wharf Precinct. Darwin is also a perfect gateway to natural wonders such as the Kakadu National Park, Katherine Gorge of Litchfield National Park.

The Uluru National Park is listed on the World Heritage list and it is one of the most famous tourist attractions in Australia. The red color of the rock formations are impressive and create a unique and unforgettable atmosphere. During sunset, visitors can take amazing photographs of those natural wonders.

The Kakadu National Park is another park listed as a World Heritage Site. Located in the Top End, it is known as the Australia's largest national park. Its wilderness area is impressive and stretches endlessly. The park boasts river estuaries, mangrove swamps, waterfalls and an dynamic wildlife.

The Katherine Gorge will amaze any type of tourists. Indeed, the series of 100-meter deep gorges couple by the Katherine River create a magnificent show. Around it, a luxuriant vegetation and a diverse wildlife including 160 species of birds can be spot during walking tours, hikes, helicopter tours or viewpoints.