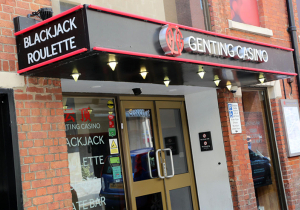 Genting Casino Bournemouth
Presenting a brick façade, the Genting casino of Bournemouth shows that it is actually bigger than it looks when you get inside. The venue has a small number of slot mach …
0 reviews
United Kingdom
9 Yelverton Road BH1 1DA Bournemouth
Grosvenor Casino Bournemouth
Come to Grosvenor Casino of Bournemouth and enjoy a memorable gaming experience in a unique place. With a wonderful view over the sea and the city 7 miles of golden sands …
0 reviews
United Kingdom
48 Westover Road BH1 2BZ Bournemouth
The county of Dorset was formerly known as Dorsetshire. It is located in the South West of England, along the coasts of the English Channel. Bournemouth, Dorchester and Christchurch are the main cities in Dorset. The population of the county of Dorset is estimated at nearly 770,000.

In terms of gaming, the visitors will go to Bournemouth to enjoy some time around slots and gaming tables. The Genting Casino and the Grosvenor Casino are the two casinos available in this city. They both provide a pleasant offer thanks to a wide range of slot machines, a Poker Room and traditional gaming tables such as Blackjack, American Roulette, Craps or Texas Hold'em. Cash Games and Poker tournaments are provided for the players seeking excitement and challenges.

The Area of Outstanding Natural Beauty (AONB) covers not less than 40% of Dorset. It is situated between the west of Southhampton and the New forest National Park. It is home of the famous Jurassic Cast World Heritage Site. Some of the most popular sites of the area are Durdle Door, Lulworth Cove, West Bay and Eats Cliffs, Swanage Beach or Middle Beach.

Durdle Door is one of the most striking natural landmarks on the coast of Dorset. This natural limestone arch is part of the 100-mile long Jurassic Coast World Heritage. More than admiring this amazing wonder, visitors can enjoy some beautiful ways, hiking trails or biking. During sunny hot days, the most adventurous dive into the water.

Swanage Bay is one of the numerous breathtaking bays of the the East Dorst coastline. Swanage Bay is part of the Isle of Purbeck, that could be reached by boat. Panoramas are exceptional here. They provide some sumptuous views of the Poole's Sandbanks Beach, Purbeck Hills, the Isle of Wight or Weymiuth Bay.

History and culture lovers won't miss a chance to discover the Core Castle. Owned by the National Trust, the Core Castle is now a ruins that could visited by families. The panorama form the hill on the Dorset coastline is magnificent. Children can have fiun while using the Thomas The Tank Engine train trip to the castle ruins.