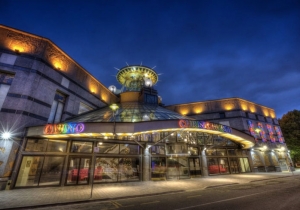 Casino Christchurch
The Christchurch Casino welcomes you and offers you 500 slot machines, 30 table games and a poker room to entertain you completely. The venue is ideally equipped to make …
1 reviews
New Zealand
30 Victoria St, Christchurch Central, Christchurch, 08140, Christchurch,
The Canterbury Region is located in the central-eastern South Island of New-Zealand. The most important city of the region and the South Island remains Christchurch, which is also the third largest urban area of the whole country. The other main cities of the region include Timaru, Ashburton, Rangiora and Rolleston.

The casino of Christchurch is the only gaming establishment present within the region of Canterbury. The casino's gaming offer is quite attractive with 500 modern slots machines as well as 30 tables including Baccarat, Blackjack, Caribbean Stud Poker, Lunar Poker, Money Wheel, Roulette, Tai Tai, 3-Card Poker or Electronic Roulette. An exciting Poker Room holds many cash games of Texas Hold'em No Limit and Pot Limit Omaha. Tournaments of Texas Hold'em No Limit are regularly organized.

As the main city of Canterbury, Christchurch provides a high number of activities within its boundaries. Despite the earthquakes, the city succeeds to attract many visitors thanks to a modern urban life but also thanks to many opportunities. The Cashel Street « Pop-up » Mall, the Botanic Gardens, the Christchurch Gondola or boating on the Avon River are among the most favorite things to do in Christchurch.

The Arthur's Pass is surely one of the most scenic drives in New Zealand. It consists of a roadway passing through the Arthur's Pass National Park. The roadway reaches not less than 900m at its highest peak. Therefore, the views and the panoramas are breathtaking. Many roads continue to bring the visitor in the heart of lush beech forest, Mount Murchison or blue rivers.

The Orana Wildlife Park is one of the most popular attractions around Christchurch. Intimate experience with a various kinds of wildlife is what to expect during a visit here. The list of animals is quite large with species coming from Africa, Australia, Asia, Americas and New Zealand. Kiwis are the stars of the park.

The Aoraki/Mount Cook is the highest mountain in New Zealand. It is located on the extreme west part o Canterbury. It is situated at an altitude of 3,724 meters and above the Tasman Glacier. Whether in summer or winter, the landscapes of the Aoraki/Mount Cook are stunning. Activities such as hiking, biking, walking or even rafting or climbing.