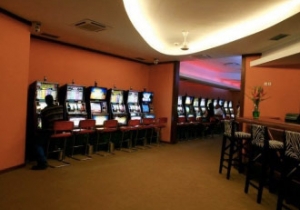 Casino Sao Tome & Hotel
The casino Pestana Sao Tome resort opens every day from 3 p.m to 1 am in a marine framework overlooking the ocean, sandy beaches and palm trees. The venue does not includ …
0 reviews
Sao Tomé and Principe
Avenida Marginal 12 de Julho, 851 00000 Sao Tome
Sao Tome and Principe is an island off the coast of Gabon. Located in the Atlantic ocean, this small country has a population of around 193 000 and its capital is Sao Tome.

The Sao Tome casino & hotel is the only gaming establishment listed on the territory. Located in the heart of a five-star resort, the casino offers exclusively slot machines. Its main asset is its breathtaking view of the ocean, beaches and palm trees.

The country is split into two distinct islands: Sao Tome, the largest, and Principe. This former Portuguese colony has retained an architectural style reminiscent of this period of history. Roca Belo Monte, the Forte de Sao Sebastiao or the National Museum are perfect examples of it. A visit to these places is particularly appreciated.

The island is also known for its paradisiacal setting. With a pleasant climate all year round, the beaches of Banana Beach or Praia Jale are small paradises on earth. In the evening, bars and pubs open their doors for pleasant and cozy evenings.