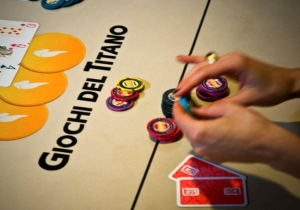 San Marino
Strada dei Censiti, 21 47891 Rovereta
Saint Marin or Republic of Saint-Marin is a very small country with an area of just 61km2. Its population is around 31,000 and its capital city is Saint-Marin.

This country can be found within the territory of Italy between the regions of Emilia-Romagna and the Marches in the northeastern part of the country.

Its constitution is dating back from 1569; therefore Saint-Marin is the oldest Republic of the modern world. The country has a wealthy economy thanks to tourism and the many banks that are located here and attracting many companies and fortunes.

There is only one casino in Saint-Marin. The casino Del Titano of San Marino is located in the North of the country. It is a very luxurious gaming establishment featuring slot machines, Keno Hall as well as tables of Roulette, Ultimate Poker, Blackjack and Punto Banco. Poker fans can be glad to known that the casino features also a very exciting Poker Room that organizes tournaments regularly. It is open daily from 2pm to 6am.

Located within the beautiful Apenine Mountains, Saint-Marin offers some stunning landscapes. Greeneries, hiking paths, outdoor activities and relaxation are part of the program daily. For example, don't miss the panorama from the top of the Mount Titan.

Its rich history can be seen in the numerous historic monuments that count the country. The culture lovers will be delighted to visit places like the Guaita, the Historic Center, Piazza Della Libertà, Basilica del Santo Marino and the Cesta Tower.