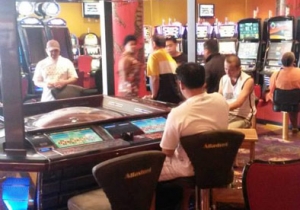 Mapau Casino St Kitts
The Puerto Rico St Kitts Mapau Casino features more than 100 slot machines and electronic tables of Blackjack and Roulette. If you need to eat, the Sweetlime restaurant i …
0 reviews
Saint Kitts and Nevis
Building 35 Port Zanté 1111 Basseterre
Saint Kitts and Nevis
Zenway Blvd 00000, Frigate Bay
Saint Kitts and Nevis is a country of the Lesser Antilles located in the northwest of Guadeloupe. This member state of the Commonwealth is composed of two islands: one is Saint Kitts and the other Nevis. The population is estimated at 54 000 and the capital is Basseterre.

There are two gaming establishments dedicated to games on its territory. The Mapau casino in Saint Kitts has 100 slot machines and electronic tables of Roulette and Blackjack. The Royal Beach & Resort Casino in Frigate Bay is a huge 3,000 m2 complex with over 300 slot machines and Blackjack, Craps, Roulette, 3-Card Poker, Caribbean Stud Poker, Crazy 4 Poker and Ultimate Poker.

The magnificent white sandy beaches and turquoise waters are the main advantages and assets of both islands. Activities that are not to be missed are scuba diving, stand up paddle, surfing, kite surfing, cruising or simply a good deal of lazing around.

But there are many other cultural places to discover. Among them, one can name the fortress of Birmstone Hill, the gardens of the manor of Romney in Basseterre or the volcano of Mount Liamuiga.