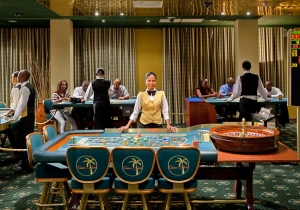 Casino Kigali & Lemigo Hotel
Located on one of the most beautiful capital city's boulevards, in Kacyiru business district, Lemigo hotel is one of the best resorts in the city. Enthusiasts for big thr …
0 reviews
Rwanda
Lemigo Hotel, Kimirura, KG 624 St 00000 Kigali
Rwanda is a country located in the region of the Great Lakes in the center of the African continent. We can find it between the Lake Kivu, Tanzania and the Democratic Republic of Congo. Its population exceeds 11.7 million and its capital is Kigali.

The casino at the Top Tower Hotel in Kigali is the only casino listed on the territory. In addition to infrastructure dedicated to the pleasures of visitors, the complex features slot machines with progressive jackpots and tables of Roulette and Blackjack.

Rwanda distinguishes itself by the beauty of its national parks and many places of culture and history. Virunga National Park and Ruhengeri National Park, for example, allow discovering species of gorillas living in total freedom.

For lovers of great spaces and hiking, the top national parks remain Akagera in Kigali and Nyungwe in Butare.

Besides the natural spaces, the cultural places testify to the rich heritage of the country. Examples include the Kigali Memorial Center in Gisozi, the Inema Art Center, and the Ntarama Church, a must-see for historic memory.