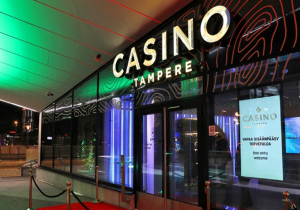 Casino Tampere
Experience the unique fusion of Nordic design and modern casino concepts at Casino Tampere, located in the Nokia Arena in Tampere, Finland. Enjoy classic table games, a f …
0 reviews
Finland
Sorinkatu 3, 33100 Tampere
Helsinki Casino
The Casino of Helsinki invites you to live a thrilling gaming experience in the heart of the capital. Inside a very stylish building combining modernity and history, you …
1 reviews
Finland
Mikonkatu 19 FI, 00100, Helsinki
Located in Northern Europe between Sweden, Norway and Russia, Finland has a population of over 5 million. Its capital is Helsinki.
The casino in Helsinki is the only casino listed in the Finnish territory.
Located in the heart of the capital, it features 300 slot machines, a poker room and twenty gaming tables (Roulette, Blackjack…). There are two superb restaurants: the Sports Bar and the Fennia Salon.
Natural landscapes, cultural buildings and vestiges of the past are the main assets of Finland. This beautiful northern country attracts a large number of tourists each year.
In Helsinki, Suomenlinna Fortress, Seurasaari Open-Air Museum, Lutheran Cathedral or Espanadi Park are some of the places to be discovered.
Outside the capital, the main points of interest are the Levi ski area, the Olavinlinna castle in Savolinna, the old town of Porvoo or the Turku cathedral.
Other locations:
Aland Region, Ostrobothnia Region, Region of Central Finland, Region of Central Ostrobothnia, Region of Kainuu, Region of Kantahame, Region of Kymenlaakso, Region of Kymenlaakso, Region of Laponia, Region of North Karelia, Region of North Ostrobothnia, Region of North Savonia, Region of Paijathame, Region of Pirkanmaa, Region of Satakunta, Region of South Karelia, Region of South Ostrobothnia, Region of South Ostrobotnie, Region of South Savonia, Region of South-West Finland, Region of Uusimaa