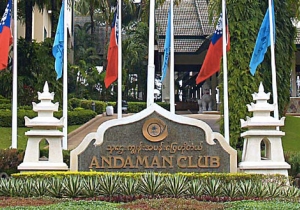 Andaman Casino Thahtay Kyun
The Andaman Club Resort and Casino is located on a Myanmar's Island called Thahtay Kyun. The entire Island is exclusively used by the Andaman Club. It is open 24/7 and is …
0 reviews
Myanmar
off Kawthoung, - Thahtay Kyun
229mi.
Phuket can be discovered in the Phuket Province (Thailand). It's big town, containing a total 75000 people.

There's no casino in Phuket and that is unlucky! But don't worry, there are some fabulous surrounding gambling venues, such as Andaman Casino Thahtay Kyun, Resorts World Malaysia Genting Highlands, Holiday Casino Palace Sihanoukville, Fortuna Casino Sihanoukville and Diamond Sea Hotel & Casino Sihanoukville.

Do you know the procedures of Poker, Blackjack and Roulette? It matters very little: the croupiers are at all times there to help you learn. They'll explain the procedures to you as the game progresses and you'll quickly begin to have some fun.

When dreaming about casinos, we suddenly think of slot machines. They've long been the leading attraction in casinos and it's pretty obvious why. The minimum bet is only a small number of cents but the jackpot can be astounding.

Just like in most seaside towns, in Phuket it's possible to switch between water sports, the beach, chilling out and without a doubt, thrilling visits to the casino! Taking a stroll is another fun activity as you will discover numerous restaurants and shops to really make your stay memorable.

The town of Phuket has a variety of historic and cultural places. This is an optimal opportunity to look into the rich culture and history it contains.

Phuket is very fortunate to have lots of sights: bars, shops, restaurants and entertainment, etc. You surely won't be bored!

If you would like to properly enjoy Phuket, there are some things that you really must experience, notably Phuket Bike Week, Phuket Sail Tours, Kata Noi Beach, Simba Sea Trips and Nai Harn Beach !

Try out the local cuisine, you surely won't regret it!

In Phuket, you'll have an excellent experience in the striking town centre's many clubs and nightlife havens. Partying is customary here, and visitors enjoy a friendly welcome from the natives. You'll certainly delight in this friendly and warm experience.