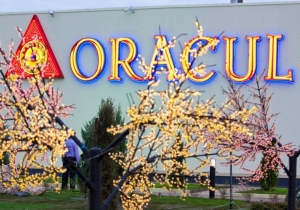 Oracul Casino Azov-City
The Oracul is the first casino to open its doors in Azov City, a special gambling zone in Southwestern Russia. The casino's gaming offer is very diverse. It offers numero …
0 reviews
Russia
Molchanovka Shcherbinovskiy Area Azov City Gambling Zone Azov
301mi.
Situated in Russia, (in the South district), Volgograd is a big town containing some 1,02 million inhabitants.

On top of handling the gambling tables, the croupiers are there to clarify the rules if you would like them to. So even if you find that you don't recognise the procedures of Blackjack, Poker or Roulette, there is no need to be stressed, the rules of these traditional games will soon enough be clear!

When dealing with casinos, we quickly see slot machines. They've long been the main appeal of casinos and it's very clear why. The minimum bet is just a small number of cents but the prospective payouts can be gigantic.

There are an awful lot of intriguing locations and monuments in Volgograd. Make the most of your visit and have a fantastic time exploring them all!

With such a massive amount of choice, (bars, shops, restaurants, leisure activities and shows, etc.), you won't be getting bored during your visit in Volgograd!

You'll discover a variety of not-to-be-missed places in Volgograd but the most well-known are undeniably Motherland Calls' Sculpture, Monuments de la colline Mamaïev, Volgograd State Panoramic Museum Stalingrad Battle, Flour mill ruins and Volgograd Speed Tram.

Native culinary dishes are genuinely worth sampling. Make the most of your stay and make sure you try and discover them.

If you love to celebrate, do not skip the wealth of clubs and bars you'll come across in the centre of Volgograd. You can enjoy yourself with the welcoming local residents of Volgograd!