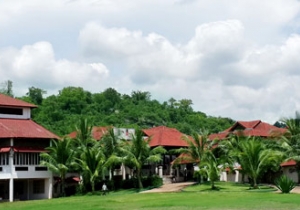 Laos
168 Luang Prabang Road Ban Muang Wa- Tha, 00000, Vientiane,
274mi.
Centred in Vietnam, (in the Hanoi Province), Hanoi is a big town containing some 7,5 million inhabitants.

You won't come across a casino in Hanoi. But Royal International Casino & Hotel Halong is very close by.

In most casinos, you'll have no issue finding classic tables like Blackjack, Poker, Roulette and often many others. If you are not perfectly comfortable starting out on your own, you can check with a croupier for help. They'll be very happy to show you the basic rules.

Whether it's with a display screen or simply standard, there are all sorts of different slot machine games. But the relevant thing is not what it looks like, it's most definitely the jackpot! A few cents will be sufficient to participate, so come along and play!

You will discover an awful lot of fascinating spots and monuments in Hanoi. Truly relish your visit and have a great time exploring them!

With so many fantastic options, (bars, shops, restaurants, leisure activities and shows, etc.), you're not likely to get bored when you're in Hanoi!

If you want to properly enjoy Hanoi, there are things that you really must try, particularly Old Quarter, Temple de la Littérature de Hanoï, Jail of Hoa Lo, Mausoleum of Hô Chi Minh and Hanoi Opera House!

Local gastronomic delights are genuinely worth sampling. Make the best of your stay and enjoy discovering and sampling them.

In Hanoi, you'll certainly have a splendid time in the town centre's many bars and clubs. To celebrate is a tradition here, and holiday-makers enjoy a warm welcome from the local residents. You'll unquestionably adore this friendly and warm experience.