In as much as the Japanese government has laid out very strict gambling laws, the citizens are not strangers to gambling. The complexity of gambling regulations does not negate the existence of gambling activity in Japan. In fact, there seems to be a steady rise in casino gaming in the country.
If you're looking to test your lack in Japan's gambling scene, you're not alone. Pachinko parlors are quite popular in Japan because they're the closest to what one would consider a gambling venue here.
Besides, the games offered in these establishments are outside of Japan's scope of the gambling regulations. Japanese gamblers enjoy a crossover between pinball and slots machines in pachinko parlors all over the country.
Some might argue that strict gambling regulations are perhaps the reason behind the non-existence of traditional casinos in Japan. However, gambling laws were introduced not long ago.
The good news is, recent gambling regulatory changes have made land-based gambling venues legal. It means that Japan is still quite new in the gambling industries. We will have to wait a few years before Japan has notable gambling parlors around the country.
Since physical gambling options are so limited, many are wondering how there is a rise in casino gaming in Japan. Well, online gaming has always been a convenient option, even in countries where there are numerous notable land-based casinos.
Online casinos in Japan are attracting many gamblers because they provide lucrative perks. You get to enjoy games like blackjack, roulette, slots, and much more.
Japanese gamblers are loving it, and here is the evidence.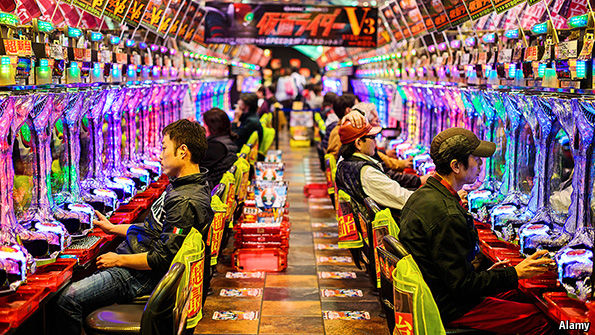 Completely Unregulated Market
Online gambling (ネットギャンブル) is becoming increasingly popular in Japan. This is because most Japanese gambling laws are directed towards land-based casino operators. Offshore online casinos have catered to Japan's gambling demand for the longest time.
However, Japanese online casino operators are on the rise, and they're coming up fast. The Japanese gambling industry constitutes a big market that has massive revenue-generating potential.
It doesn't come as a surprise that betting sites and internet casinos are fighting for a piece of the cake.
Horse racing alone, which is actually legal and allowed, generated over $27 in 2019. The pachinko industry, which has been around for a while now, is worth $30 billion.
The numbers never lie, so online casino operators are establishing their territories early enough. Currently, it's hard to know how many online casinos have already been established because the market is still unregulated.
However, sites like Manekinekocasino.com are already popular among Japanese gamblers. This site offers a variety of promotions and bonuses to keep players happy.
Government Missing a Trick with Online Casinos in Japan?
It has taken this long for gambling in Japan to finally be legal because many social and political groups have always been against it. In fact, there are still many demographics that do not agree with the legalization of gambling.
However, since gambling activities are strictly regulated, the government has ensured that activities that would rub people the wrong way aren't allowed.
The latest bill in Japan's gambling laws addresses live venues; this does nothing for online casinos. Seemingly, Japanese gamblers who prefer online gambling platforms will have to keep getting their fix from internationally-licensed and offshore-operating online casinos.
Many people are wondering if the Japanese government is missing the trick here. If we look at the numbers, it couldn't be any clearer that regulating the online gambling sector would significantly boost Japan's economy. By taxing online casino operators and charging license fees, the government would enjoy a bountiful income boost.
The question that comes naturally is: Why is the Japanese government not taking advantage of this untapped and unregulated market to pump revenue into the economy?
Well, when all is said and done, the fact remains that these types of legal battles can be long and inefficient. Take the United States for instance, the country has only recently gotten around to legalizing sports betting. This is despite sports having great popularity across different states for decades now.
Conclusion
Japan needs to be cut some slack because they're only just entering the gambling scene, and progress doesn't happen overnight. In the end, there is no doubt that Japan will catch up with the times. Even though legal frameworks to regulate the online gambling sector still do not exist, we see a future where the government will be reaping big from this unregulated market. We hope when they're finally rolled out, the legal frameworks will be centered on protecting players.